Business
Twin Arrows celebrates first birthday with growth spurt
By Bill Donovan
Special to the Times
WINDOW ROCK, May 8, 2014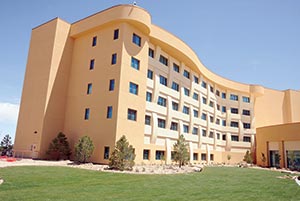 (Courtesy photo)
advertisement
T
win Arrows Navajo Casino celebrated its first anniversary this past weekend with the opening of another 110 rooms in its resort hotel.
While the first year has been a struggle for the Navajo Nation's most expensive casino (more than $130 million), Derrick Watchman, CEO of the Navajo Nation Gaming Enterprise, said "we are now in a position where we can go."
The opening of the three other Navajo casinos in New Mexico (Fire Rock, Northern Edge and Flowing Waters) were marked by better-than-expected attendance and revenue, Twin Arrows did not meet financial or attendance expectations.
While the casino brought in enough to pay for its operating expenses and the salary of the 800 or so employees, the enterprise was only able to pay the interest on the money it borrowed from the tribe to build it.
"That was about $24 million last year." said Watchman, who added that increased attendance and the additional hotel space are expected to increase revenues over the next few months.
Beginning in January, the enterprise began a series of promotions to get more people to stop by the casino if only to eat at one of its several restaurants. It also erected a huge neon sign on casino grounds to make people traveling on Interstate 40 aware of its existence.
How to get The Times: