Business
The people's flour
Cortez company produces 600,000 bags of Blue Bird flour each year
By Carolyn Calvin
Navajo Times
CORTEZ, Colo., Sept. 30, 2010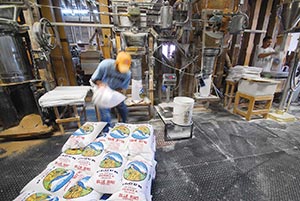 (Special to the Times - Donovan Quintero)
advertisement
A
sk any veteran fry bread maker what's the best flour to use, invariably they will answer, "Blue Bird."
"We wouldn't be in business without the Navajo people," said Trent Tanner, part owner of Blue Bird flour. "It's our philosophy that it's their flour and we make it for them."
Each year the Cortez Milling Co. produces about 600,000 25-pound bags of Blue Bird flour, most of which is sold throughout the Navajo Nation and in towns surrounding it.
"Sales go up especially in the summer when kids get home from boarding school," Tanner said.
Although the Blue Bird brand was created around in the 1930s, it was not until 1965 that Tanner's grandfather, Halworth, started running the Cortez Milling Co. Today, Trent and his brother Gary run the mill.
"Blue Bird has grown ever since," Tanner said.
It is the only flour produced by the company that is completely packaged in cloth bags, which costs more than paper.
About two years ago, the company expanded the line to offer the flour in five- and 10-pound bags in addition to the larger size.
"By golly, they took off and we couldn't believe how fast they sold," Tanner said. "We were told, 'Don't ever put it in paper.'"
To meet demand for the Blue Bird brand, the mill opens at 6 a.m. Work begins on grinding almost 60,000 pounds of wheat each 12- to 14-hour workday.
First, red winter wheat - purchased from local dryland farmers - is weighed and dumped into pits beneath the mill.
Tanner explained that the wheat is then run through a series of separators to remove any foreign materials.
The wheat is then poured onto conveyor belts for tempering, which involves spraying water to wash the wheat and soften the bran coat on each kernel.
"We add water to the wheat and mix it up," Tanner said. "After the wheat is washed, it is given 12 to 14 hours rest before grinding it."
Most of the grinders used at the mill date back to the 1800s, with some modifications.
"All the equipment is old," Tanner noted.
The wheat passes through at least four grinders. The first one breaks the wheat into coarse particles. It is at this point that bran and shorts - bran pieces and particles of kernel that have become separated from the core - are removed.
The bran and shorts, which are rich in nutrients, are packaged separately for sale to feed stores for livestock.
The rolls in the grinders become successively smoother until the flour has the consistency of baby powder. From there the flour is poured through a series of sifters so powerful they make the floor shake. They are large, constantly moving wooden boxes hanging from bamboo rods. Each box contains 14 screens, or sieves, that sift about 5,000 pounds of flour.
advertisements
---
It's up to miller Jim Singer to ensure that the sifters are working properly.
The sifters "work against each other," Singer said. "Through a process of elimination, we get to collect all flour from wheat without sacrificing quality."
The sifter design is unique, Tanner said.
After sifting, the flour descends further into a machine that "puts all the nutrients back into the flour," Tanner said. Then it goes into another machine that adds bleach to "speed up the whitening process."
Finally the flour is sacked in the trademark blue-and-white cotton bags in four sizes - 50-, 25-, 10- and five-pounds.
The bags are then prepared for delivery to stores throughout the Navajo Nation including trading posts at Kaibeto, Shonto, Inscription House, Black Mesa and Gouldings.
"We used to serve about 150 trading posts," Tanner said. "Today we mostly stock big chain stores."
Their marketing strategy is simple - word of mouth building up through the years.
Grocery stores that stock Blue Bird flour include T&R Market, Lowe's, Bashas', Kroger, Albertsons and Safeway.
"We can't make enough to stock Wal-Mart," he said, explaining that the mill is already operating at capacity.
In addition, Bluebird is shipped via mail order.
"We get calls from all over the United States," he said. "A Shoshone woman from Oklahoma called and asked us to send the flour that the Navajo people use for their fry bread."
During the wedding season in Hopi land, Tanner said, "They give away 200 or 300 sacks of Blue Bird at a wedding."
Demand is also high during fair season on the Navajo Nation.
"The fairs help to get things going," he said.
Blue Bird sacks have been recycled for everything from dish towels to bandages, and now appear in clothing and other items at craft fairs. Clean, new 25- and 50-pound sacks are available for $2 and $2.50 at the mill.
The Cortez Milling Co. also produces the Red Rose, White Rose and Valley Queen brands of flour.
"If the Navajo people quit making fry bread, we would be dead," Tanner said.