Business
Sammy's offers haircuts, manicures and pedicures
By Marley Shebala
Navajo Times
WINDOW ROCK, August 23, 2012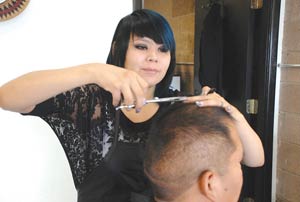 (Times photo – Paul Natonabah)
advertisement
T
here's a new face in town – Sammy's.
Sammy's is the newest business at the Chihootso Indian Marketplace and it's a hair salon that also offers manicures, pedicures and waxing.
But it also serves as a barbershop when Nicole Juarez is on duty.
Blue-haired Elizabeth Ann Traux, who also works at Sammy's, said that Juarez's forte is cutting men's hair.
"She loves doing clipper cuts," Traux said with a huge smile.
She pointed at a magazine sitting in Juarez's workstation, which showed a photograph of a man with a hair tattoo, and said that Juarez also does hair tattoos.
As Traux was finishing up a razor cut on a young lady, a couple of female customers and a little girl walked into Sammy's.
She flashed them a smile, said hi and asked if they needed a cut.
One of the ladies asked if she did acrylic nail fills.
Traux said that Juarez did and that she'd be in the shop the next day.
Juarez also handles the manicures and pedicures.
The customer then asked about the cost of putting highlights in her hair.
Traux asked the customer to undo her hair, which was tied up in a ponytail.
The customer's hair was about waist length. Traux said that it would probably cost about $45.
After a brief review of Sammy's services and prices, the customers made their way to the door, where they picked up a small flier with Sammy's phone number and operating hours.
As Traux invited them to come back, she also encouraged them to make an appointment for any highlighting, perms, because of the amount of time that it would take to put highlights in her long hair.
Traux, who has a quick smile and warm laugh, was at the salon by herself when the Navajo Times dropped in for an interview on Aug. 16.
She said that just the day before she had put purple and red highlights into another customer's hair and it took her about three hours.
The customer was totally satisfied with it, Traux said.
She added, "I wish I had taken a before and after photo."
Traux explained that the highlighting took three hours because the customer's hair was long, coarse, and really curly – like the hair of Pittsburg Steelers' Troy Polamalu.
Traux had just finished a 45-minute shampoo, conditioning and razor cut for Glenda, a young lady with shoulder length hair.
When Glenda entered the salon with her friend, Traux immediately welcomed them with a smile.
As soon as Glenda told her that she needed a haircut, Traux sat her down in one of three styling chairs and had Glenda loosen her hair from a hair tie.
As Traux stood behind Glenda, she gently lifted her hair and let it fall naturally around Glenda's head, she asked Glenda several questions that included how Glenda had her hair cut previously, how Glenda parted her hair and if she wanted Traux to use a razor or scissor to cut her hair.
Glenda asked what the difference was between a hair cut with a scissor and razor.
Traux explained that a razor cut left the hair with a more natural look.
After she finished cutting Glenda's hair, she handed her a hand mirror so Glenda could also look at the back view of her haircut.
The huge smile on Glenda's face said it all.
After Glenda left, Traux said she talked with Glenda about her hair before shampooing, conditioning and cutting it as part of the hair consultation, which is step one.
"I really communicate a lot with the client," she said.
Traux said she learned about hair consultation while studying cosmetology at the University of New Mexico-Gallup, where she graduated from the two-year program.
Her cosmetology license, which she received after passing the cosmetology examination that the New Mexico Board for Barbers and Cosmetology administers, sits between the inside window and entrance of Sammy's.
advertisements
---
Juarez's cosmetology license is propped up at her workstation.
Traux said that she and Juarez started studying cosmetology at UNM-Gallup about the same.
Rob Day, who is the owner of Sammy's, said he met Traux and Juarez while they were attending cosmetology school.
And Day said when they finished school, they started commuting to work in Gallup from around Fort Defiance and Window Rock.
After he "stumbled" on the idea of opening a beauty salon, he offered them a job at Sammy's, which opened on June 20.
Day admitted with a chuckle that most, if not all, of his business knowledge is about cars and motorcycles, not beauty saloons.
He recalled that he got the idea to open a hair saloon after several ladies came to his auto shop asking for the "spa."
Day said that he had put up a sign advertising a new service at his shop – "auto spa", a thorough cleaning of a vehicle's interior.
"There's a lot of hair places around the area but none of them give manicures, pedicures and the rest of those services," Day said.
He said that he named his latest business after his grandfather.
Day said, "There's a lot of people that knew my grandpa and when they meet me, they'll say, 'You're Sammy's grandson.'"
He said that his idea for the "industrial" interior design for Sammy's came from the hair salons in Phoenix and other places.
"But," Day said, "my concept was the newer industrial type that you see in the movies, like 'Tron.'"
He noted that he definitely didn't want the usual bright salon colors of lavender and pink.
"Elizabeth adds to that with her punk rocker style," Day added. "The younger people want to get their hair done like that and she's really good at that so come on in and get a new haircut."
Sammy's is open Monday through Friday from 10 a.m. to 6 p.m. and on Saturday from 10 a.m. to 3 p.m. Appointments can be made by calling 928-871-1177.