Business
Tuba City hospital brings health care to the people
By Krista Allen
Western Agency Bureau
TUBA CITY, June 20, 2013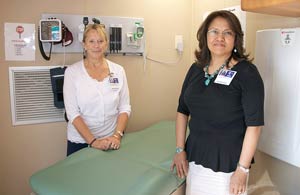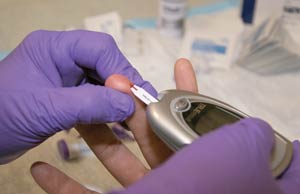 (Times photo – Krista Allen)
advertisement
T
he Tuba City Regional Health Care Corp. is officially set to bring its dental and medical care services directly to underserved communities on the Western Navajo Agency, Moenkopi Village, and San Juan Southern Paiute reservation. Patricia Bartholomew said the program finally came to fruition after eight years.

"We have intentions to go to all of the chapters," said the amiable registered nurse originally from Oregon.

A grand opening and ribbon-cutting ceremony took place on Friday at the TCRHCC parking lot in the sweltering morning heat.

"We are very happy and very proud that our mobile units are finally here," said Assistant Chief Nursing Officer Dolly Luna-Smallcanyon in her welcome address. "The launch of our new mobile vans has a huge undertaking by an organization, it's something that we've been working on steadily (for) the past several years, and it's only now that it's come into reality for us."

In fact, it has been the dream of the board directors, administration, and provider staff to have a community-based mobile health program.

advertisements
---
"We are very happy that we are now able to take primary care and very much needed dental services out into our communities," added Smallcanyon. "So the idea is to take services to the areas where there are no services or very limited services."
Chief Executive Officer Joseph Engelken said the program has been years in the making.
Engelken explained that part of the strategic mission is to bring services to the underserved communities.
"I can't think of two better examples than these two (units)," said Engelken.
Thanks to a federal rural health improvement grant, TCRHCC will begin to improve access to primary health care for patients in rural areas that don't have means for preventative healthcare and treatment.
"This funding could not have come to the former structure of the hospital just because of the federal limitations of receiving grants," said Engelken. "It is a huge benefit and in that respect. I look at these two (units) and they represent a milestone."
Bartholomew said the units are state-of-the-art with extremely large struts, and built on chassis made to go on underdeveloped roads.
"We can't go on all of them, but (they're) built on freight-liner chassis," said Bartholomew. "So we can take that little bit more of a beating when we're out. And that's important that we can make it to the chapters."
TCRHCC's mobile health program will offer comprehensive exams for all ages.
"It's really important that the community knows that we don't do any emergency or urgent care on the medical units," said Bartholomew. "We can't handle someone coming in that is having an exacerbation or short of breath. We don't do anything invasive."
The mobile medical care will provide services including annual check-ups, acute treatment, immunizations and testing, chronic disease management, preventative care and screening. The dental care unit will provide services including cleanings, digital X-Ray, restorative fillings, extractions, gum treatment, and root canals.
Information: Roselyn Riggs, 928-283-2607 or 928-640-1626
Contact Krista Allen at editor@navajotimes.com.