A & E - ONLINE EXTRA
Doing it the Diné way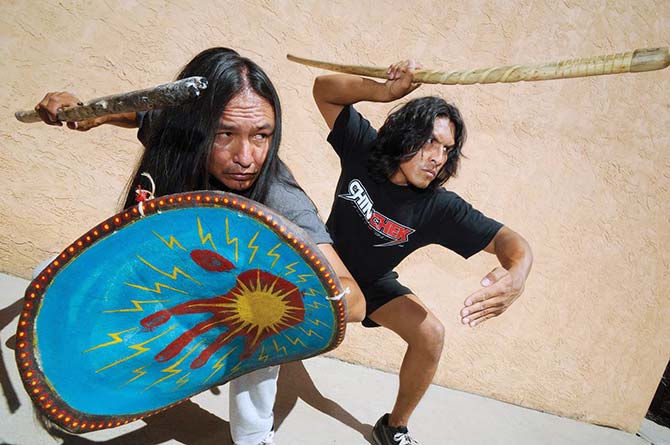 (Special to the Times - Donovan Quintero)
Filmmaker insists on Native actors, cultural accuracy
By Cindy Yurth
Tséyi' Bureau
CHINLE, Sept. 11, 2009
Norman Patrick Brown believes there's only one way to make a movie about Navajos: with a Navajo cast, crew and director, in the Navajo language.
The Gallup filmmaker realizes this is not the way to reach a mass audience. It is certainly not the way to get rich.
"I'm not going after Hollywood," he said in a recent interview over coffee at the Thunderbird Lodge in his native Chinle. "My audience is my elders. If I can make Grandma smile, it's worth it to me."
Brown, who is Tsé Nahabilnii (Sleep Rock Clan), born for Biih bitoodnii (Deer Spring Clan), is perhaps best known for his 2008 film "Poison Wind," a hard-hitting documentary about the health effects of uranium mining. It's currently making the rounds of international film festivals, most recently in Tipperary, Ireland.
Another documentary, "Power Paths," premiered at the Santa Fe Indian Market on Saturday.
His two other films of this decade, "Lii Biyiin" ("Horse Song") and "Rez Hope," were fictional but based on real issues: diabetes and teen drug use, respectively.
But Brown's current project, co-produced with Jenny Pond's 220 Productions, represents a "whole new direction" for the director/writer/producer and his company, Rezwood Entertainment.
"Rainbow Boy" came to Brown fully formed while he was meditating. It's a mystical allegory about an ancient warrior who turns up in modern Gallup.
"It takes a man who came from the past to see what we've lost," Brown explained. "He sees the sadness in the eyes of our people, the destruction of the land, but most importantly, that we don't call ourselves 'Holy Earth Surface People' anymore, just 'The People.'"
Brown cast two unknowns, Leland Grass and Joshua Sandoval, to play the warrior Eagle Catcher and the modern Gallup resident who befriends him.
"I was determined to use Navajo actors," he said. "I just went around asking for recommendations, and found these guys."
advertisements
---
With so few high schools in the area teaching drama these days, Brown has to do a lot of coaching on the set. He himself learned acting the hard way, working odd jobs in New York City in his twenties, picking up parts in "off-off-off-Broadway" plays.
He later moved to Los Angeles, where he did some movie work - his biggest credit should have been "Thin Red Line," but they cut his scene - and "yellow-lined" scripts about Indians for cultural accuracy.
He drew a lot of yellow lines.
"I had to practically cross out whole pages at times," Brown said. "I'd be thinking, 'Nope, we don't do that. And this is totally wrong. Where are they getting this stuff?'"
It occurred to him that if anyone was writing movies about Natives, it should be Natives. But it would be a while yet before he started making films.
After moving back to Arizona, Brown found himself doing still photography for a studio in Phoenix. He heard of the Beauty Way Project back on the Navajo Nation.
"Someone had gotten a grant to develop these little educational videos, little lesson plans," he said.
Brown applied to the project, thinking he'd be a shoo-in. As he sat in a room waiting to be interviewed, he found himself hopelessly outclassed.
"One guy says, 'I have a master's from Dartmouth,'" Brown recalled. "The next guy says, 'I worked at a TV station in Salt Lake for five years.' Me, I was just a writer and theater actor. I had no experience whatsoever."
But Brown decided to give it his all.
"I love my Navajo people," he told the panel of interviewers with all the passion he could muster. "I love storytelling. I will create something that has never been done before."
It worked: They hired him. And the first thing he did was hire someone who could show him how to make videos.
By the late '80s, Brown was making his own films. In 1990, he premiered "Awakening," the story of a Navajo boy who learns about his culture from an unlikely source, to some acclaim, and since then his following has grown slowly but steadily.
In between acting and directing and making films, Brown has always been an activist. He's been all over the country protesting hate crimes, environmental degradation, desecration of sacred sites, and almost every other issue affecting Native communities.
But as he's matured as a person, the 49-year-old Brown says he's matured as an activist as well.
"I carried a gun all my life," he said. "The anger of the environmental justice issues, the racism issues - that's what motivated me. But I'm getting older and it's time to put all that away. This is my new weapon now, this camera. It's about creating peace."
Look for "Rainbow Boy" to premier in late December, hopefully at El Morro Theater in the heart of Gallup.
"This story is for and about the people of Gallup," Brown said. "I want them to be the first to see it."
Don't worry, non-Navajo-speakers, there will be English subtitles.
Brown hopes to eventually sell both the DVD and the soundtrack, which will include a wide variety of Diné bands.