Community
'An Engineering Feat'
Glen Canyon Dam: 50 years of power celebrated
By Krista Allen
Western Agency Bureau
PAGE, Ariz., Oct. 2, 2014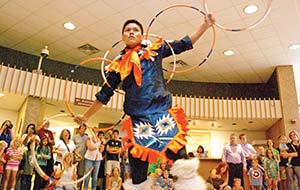 (Times photo - Krista Allen)
advertisement
A
fter announcing the half-billion dollar settlement with the Navajo Nation in Window Rock, U.S. Secretary of the Interior Sally Jewel took a short hike to Horse Shoe Bend the next day with local officials including Rep. Ann Kirkpatrick.
That afternoon on Sept. 27, Jewel was the keynote speaker at Glen Canyon Dam's 50 Years of Power Celebration where she and four other officials addressed a large gathering.
National Public Lands Day marked the 50th anniversary of power generation by Glen Canyon Dam. But Jewel said it was actually the anniversary of the opening of the West.
How to get The Times: