Arts, Entertainment & Culture
Wayne Static energizes Gallup audience
By Noel Lyn Smith
Navajo Times
GALLUP, Dec. 22, 2011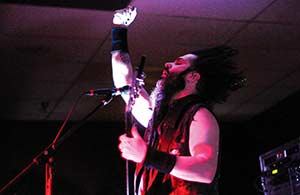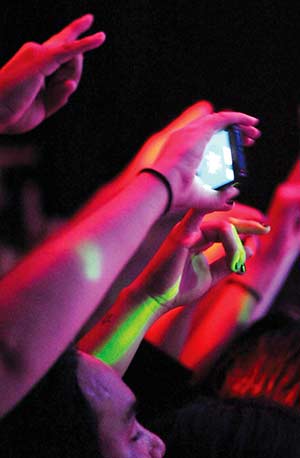 (Special to the Times - Donovan Quintero)
advertisement
B
acked by a new band, Wayne Static brought the music of "Pighammer" to life Dec. 17 at Slopshots Billiards.
"Pighammer" is Static's first solo album, released Oct. 4 on his own label, Dirthouse Records.
The noise created by Static and his band - lead guitarist Ashes, bassist Brent Ashley and drummer Sean Davidson - was so loud that it vibrated off the walls as they launched into "Assassins of Youth."
During the song, Static's wife, Tera Wray Static, walked on the stage and danced. She wore tight sequin pants, a T-shirt and a baseball cap, all in black.
Static did not waste time chatting but engaged the crowd by delivering songs one after another.
At one point, he told the audience, "You guys are (expletive) wearing me out. You guys are (expletive) awesome."
When he launched into "Push It" from Static-X's 1999 album "Wisconsin Death Trip," the audience yelled "Yeah!" while Static responded with, "You push it!"
At stage left was Ashes and standing to the right was Ashley.
Another song from "Pighammer" was "Static Killer."
Tera, a dishy former adult movie star, returned to the stage to help with vocals, appearing topless in a black and white corset, strategically placed black electrical tape, black sequined underwear, black fishnets and knee-high black boots.
Static also played "Black and White," "Destroyer," "Stingwray," "Bled for Days," "Dirthouse," "Cannibal," "Trance Is the Motion," "I'm with Stupid," and "Love Dump" from his years with Static-X.
After "Black and White," he said, "My name is Wayne Static and I am an alcoholic. I know you guys can't drink out here tonight so I'm gonna do all the drinking tonight."
During "I'm with Stupid," Static held up his left hand and formed an "L" with his thumb and index finger while singing the lyrics, "He's a loser, He's a loser, she said."
Tera copied this gesture, familiar to Static-X fans, as she walked across the stage.
As the song came close to the end, a circuit breaker went off and abruptly cut the sound and the lights.
advertisements
---
Static, Tera and the band left the stage as crewmembers moved to figure out the problem.
"What happened?" a roadie asked one of the security guards.
They spent almost 10 minutes trying to reconnect the maze of cables and electrical cords.
Throughout the break, the audience stayed in place with some shouting, "Play all night long!" and "Wisconsin Death Trip!"
After the problem was fixed and Static returned to the stage he joked that the band needed a break "to do drugs," then kicked off the encore with "Love Dump."
Static closed the 17-song set with "This Is Not" off the 2001 album, "Black and White."
"Gallup, you (expletive) kick my (expletive)," Static said. "Thank you!"
Prior to the show, about 30 people visited with Static during a meet and greet.
Fans bought CD booklets, photos and concert flyers for him, Tera and the rest of the band to sign.
As the line slowly moved, a group of women stood snapping photos with their camera phones.
Jacob Allison, 28, of Gallup, approached Static with a big smile then said, "This is my greatest Christmas present ever."
Allison suggested dropping to his knees to pay tribute to his idol.
Static told Allison to go ahead and Allison did, much to Static and Tera's delight.
After the meeting, Allison was still trying to calm down.
"That's my guy," he said. "He's my idol. I've seen him at big shows and I never got to meet him."
His friend Stephanie Smith, who had bought Allison's ticket to the concert, sat nearby while he continued to rave.
"I've been hyped up all day," Allison said.
"Since yesterday," Smith joked.
Theodora Arviso, 22, of Manuelito, N.M., also attended the meet and greet.
She had Static sign a copy of the Dec. 8 Navajo Times article about him ("A new life, new musical journey for Wayne Static") that she had spotted on the kitchen table as she walked out the door.
"My heart was pounding. I was nervous and I didn't know what to say," Arviso said.
Such was the effect of Static on his Gallup fans.