Arts
City girls' kinaaldá
On the rez for their ceremony, urban twins recapture their heritage
By Cindy Yurth
Tséyi' Bureau
NAZLINI, Ariz., March 22, 2012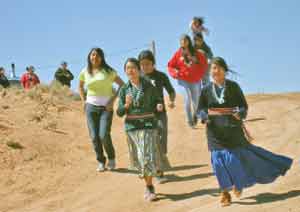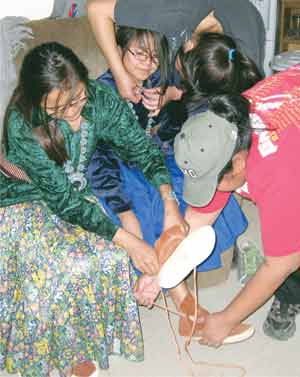 (Times photo - Cindy Yurth)
advertisement
A
top this lonely mesa with its 360-degree view, it's easy to see how city girls could feel some "anxiety," as Kennedy Denet Yazzie describes it.
Nor are Kennedy, 13, and her twin sister Kalie thrilled that a sheep is being sacrificed on their behalf.
"Goodbye, Oreo," Kalie whispers to the hapless ovine as her step-grandfather, David Dodge, sharpens a butcher knife. "I still love you."
The girls cringe as Dodge draws the knife across the animal's throat, carefully catching the blood in an enamelware pan.
"I was a vegetarian for a week," declares Kalie, "but it made my grandmother mad, so I stopped."
"We're Navajos, Man!" chides her father, Duane Yazzie, as he carves the skin from the still-warm carcass.
Kalie and Kennedy are here at their great-grandmother's place from Chandler, Ariz., to celebrate Kennedy's kinaaldá. Kalie had hers last August, but according to tradition, the twins must go through the ceremony with each other so she's here to support her sister.
A kinaaldá for twins is a special blessing, explains their chei, Leon Skyhorse Thomas, because both the main Diné female deities - White Shell Woman and Changing Woman - are represented in human form.
The girls seem a bit ambivalent about the whole thing, and Kalie confesses the main reason they're doing it is to appease their mother, Tanya Yazzie, who never had a kinaaldá.
In fact, although they are great-granddaughters of the legendary Marjorie "Grandma" Thomas, they are the first generation in their family to have the traditional coming-of-age ceremony.
The matriarch says she's grateful her granddaughter insisted on it, and the twins will come to appreciate it in time.
"My parents were Christian missionaries, so I never had one," she said. "I feel like I really missed something."
To Thomas, the elaborate ritual is a framework for something she feels is more important: a gathering of female relatives who can explain to the young women how their bodies work and how they must comport themselves as adult females.
"Nobody ever talked to me about it," she said. "When my older sister started (her period), I cried and cried. I thought she was bleeding to death."
Adds the girls' grandmother, Gloria Dodge, "Girls who have the kinaaldá do better emotionally and educationally. They make better life choices."
Although Kalie declares she doesn't feel any different since her kinaaldá last August, her mother begs to differ.
"I've noticed a different confidence level," she said. "She doesn't bow down to pressure. She'll do what she thinks is best for her."
advertisements
---
The rigorous four-day ceremony involves running three times a day, staying up all night and grinding corn to bake a huge cake for all the attendees. The idea is to represent the sacrifices and responsibilities they will face as adult women.
"Once you've gone through the kinaaldá," explains Tanya, "you feel like you could do anything."
Kalie and Kennedy are fine with the running. In their life as modern schoolgirls in the Valley, they're experienced cross-country athletes who have already taken part in several charity half-marathons.
As for staying up all night to pray with the medicine man, "We're stocked up on (the energy drink) Rock Star," Kennedy confides.
The cake-baking part, they're not thrilled about.
"Why can't I eat my own cake?" asked Kalie. "I made it!"
"Because it's not for you," responds her mother sternly. "It's for everybody else."
She turns to the reporter. "If she had been raised on the rez," she said, "I wouldn't have to explain that to her. I wouldn't have to catch them every time they turned around and remind them to turn to the right, never counter-clockwise. They would just know."
Tanya graduated with a degree in archaeology from Arizona State University, and never made it back to the Navajo Nation. She has a good job in her field with the Gila River Indian Community, and her husband also found decent employment.
The twins have an autistic younger brother, and the resources available to him are much greater in Chandler than they would be on the rez.
Still, watching how uncomfortable her daughters seem on their own land among their own people, Tanya is having some major regrets. She has tried twice to get on with the Navajo Nation Historical Preservation Department, but hasn't yet succeeded.
"Most of our friends in the Valley are O'odham and Pima and non-Natives," she said. "When I think of my daughters marrying someone from a different tribe or race, it makes me a little sad. I wonder if they'll carry on our culture."
Once you move away, said Tanya, "That's when you really appreciate what you grew up with. That's the main reason I wanted to do this for my girls."
It's her off-rez work experience, however, that has made her an ideal kinaaldá mom. When it came time for digging the pit to cook the cake, she immediately took charge.
All the relatives marveled at the levelness and symmetry of the tiered earthen oven - very similar, Tanya says, to pits an archaeologist would dig to excavate a site.
"It's the first time my family has seen my work," she said with a grin.