Arts
'More Than Frybread' hits the funny bone
By Alastair Lee Bitsoi
Navajo Times
GALLUP, April 5, 2012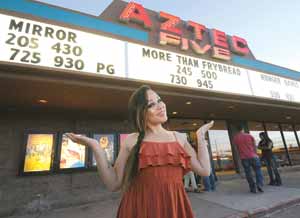 (Special to the Times - Donovan Quintero)
advertisement
W
hen Marlene Begay emerged from the premiere of "More Than Frybread" at the Aztec 5 Theatre on Friday, she was laughing hysterically.
The story line - a fictional fry-bread competition among Arizona's 22 tribes for a chance at the equally fictional national fry bread competition in New York City - struck her squarely on the funny bone.
"Oh, my god," Begay quipped, chuckling over the comedy's story about the participating tribes, and the lengths they go to in quest of proving their people are the best fry-bread makers.
Begay, 48, watched the film as part of her granddaughter Denise's birthday celebration, and said writer-director Travis Holt Hamilton was on cue with humor specific to Native Americans (despite being Anglo himself).
"It was hilarious!" she said, rating the film "must-see."
"My favorite part was all the way," she said. "Just come over, watch the movie and see for yourself."
Fry bread came into being in the late 1800s, when most indigenous Americans had been deprived of their traditional livelihoods by U.S. government policy. Tribal peoples were destitute, and learned to make an edible staple from the flour, salt, vegetable oil and baking powder doled out by the Army.
Over time, fry bread has become part of Native American culture, a symbol of nurture and neighborliness in almost every tribe.
"I think each Native American tribe has their own aspect of fry bread," Begay said. "For Navajo, it has come from generation to generation."
Hamilton said he chose to write "More Than Frybread" as a comedy to showcase tribal nationalism, evil-eye staring, and inter-tribal competition.
"I have journeyed across Native America and when it comes to fry bread, a lot of my friends claim their tribe or grandma makes the best fry bread," Hamilton said. "I wondered why there wasn't a competition... It was a fun idea."
And to show that pride, the 90-minute film closely follows five individuals, representing the Hualapai, Hopi, Navajo, Tohono O'odham and Yavapai-Apache tribes, who are obsessed with their own fry-bread making skills.
Hamilton chose seasoned performers - actors, comedians and musicians - for the lead roles: Teresa M. Choyguha, Tohono O'odham; twin sisters Dey and Nite Gomez, Arapaho; Jennifer Joseph, Hopi; Tatanka Means, Navajo/Lakota; and Camille Nighthorse, Hualapai.
advertisements
---
"The actors that came out did a real good job," he said. "We had a lot new timers and some seasoned vets."
Navajo actors DeShava Apache, James Bilagody, James June, Pax Harvey, Dennis Nez, Rhonda Ray, and Ernest Tsosie III were also featured in the film, along with San Carlos Apache native Mary Kim Titla.
The film, which Hamilton wrote in 2008 and produced in 12 days across six reservations in the western U.S., made its debut in mainstream theaters March 31 in Gallup and at the Allen 8 Theatres in Farmington.
"More Than Frybread" is Hamilton's fourth film about contemporary Native American characters, starting with "Turquoise Rose" (2007), "Blue Gap Boyz" (2008) and "Pete and Cleo" (2010), all of which focused on real-world situations. All were shown in Gallup.
About 100 people turned out for the "Frybread" premiere weekend, and the movie did well enough to remain in theaters for at least another week.
"Up in northern New Mexico, a lot of people have interest in this movie," said Asa Allen, film buyer for the Las Cruces, N.M., -based Allen Theatres. "As long as customers keep coming to the movie then we will hold it."
Despite competition from big-budget films like "The Hunger Games," "Project X" and "The Lorax," "More Than Frybread" pulled in about $2,500 for Aztec 5 over the weekend.
"I think that is a great turnout, I am definitely pleased," Hamilton said. "I know we beat three or four movies there for attendance.
"Hopefully people who saw it enjoyed it and they let other people know this movie is playing in Gallup and Farmington," he said.
Among those present at the Gallup premiere Friday was Dey Gomez, who starred as Sunshine Smith in the movie.
"When you're watching it's cheesy but at the same time, you get that humor," Gomez said, adding that to see "More Than Frybread" on the marquee was "just shocking."
"It's a good laugh," declared Candice Petzoldt of Tohatchi, N.M. "It's something people from around here can relate to."
Hamilton said he also screened the film on reservations in the Pacific Northwest to gauge its potential appeal beyond this region.
"It played well in the Northwest," he said. "It's been a really positive response and exciting as filmmaker."
Information: www.frybreadmovie.com, www.allentheatresinc.com or 505-726-0800 or 505-326-0000.