Entertainment
Time to rock!
Otep ready to wake up fans with Gallup show
By Noel Lyn Smith
Navajo Times
GALLUP, July 26, 2012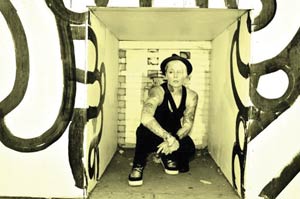 (Courtesy photo)
advertisement
O
tep Shamaya is ready to awaken and pollinate the minds of her fans through an upcoming tour, and to that end will perform with her namesake band Aug. 4 at The Juggernaut (412 N. Ninth St.).
"For me, this run is about reconnecting with our fan base," Shamaya said in a telephone interview Monday from Los Angeles.
The band's rise through the metal music ranks has been interesting to say the least.
A big break came in 2001 when Ozzfest creator Sharon Osbourne saw Otep perform and invited the band to play Ozzfest, affording exposure to a huge audience of potential fans.
Otep later signed with Capitol Records, which released three albums - "Sevas Tra," "House of Secrets" and "The Ascension."
In 2009, the band moved to Victory Records, which released "Smash the Control Machine" followed by last year's album, "Atavist."
So a tour at this point makes sense, Shamaya said, and will allow the band to engage in an "emotional, spiritual intercourse" with fans.
When Shamaya started Otep in late 2000 she did not set out to be a recording artist, but instead wanted to be a live performer.
Growing up she did not think about becoming a singer or a songwriter. She wrote and illustrated stories.
Shamaya and her band are based in Los Angeles, but she considers herself a global citizen.
"I've always been a student of using universal language, universal imagery in my art," she said. "That's the kind of art that I like, I don't want to be spoon-fed anything unless it's meant to be that way."
Touring allows her to see and develop her own understanding and truth about the world and its social issues. But in addition to direct experience, she sees value in reading and as odd as it seems in the nihilistic metal world, Shamaya is working on a program to encourage people to read books.
"I think that books enable us to think and comprehend and develop opinions," she said.
And as far as movies and TV, Shamaya is a fan of some of them, but notes that people do not learn to develop their imagination when they are bombarded with images. No psychologist could have put it better.
advertisements
---
Among her favorite writers are Ray Bradbury, Harlan Ellison, Hunter S. Thompson and Christopher Hitchens. She also reads beat poetry and the works of Walt Whitman, Jack Kerouac, William S. Burroughs, Sylvia Plath, Anne Sexton and Toni Morrison.
The more you talk to Shamaya, the more layers you realize she has. She is, for instance, a poet, and last year released "New WORD Order," a 200-page poetry collection that she wrote and illustrated. It is available at www.lulu.com.
She said "New WORD Order" was primarily written for a spoken word performance and was her response to a broken engagement and a death in the family.
"It might be my most personal book of poems that I have ever written," she said.
At first hesitant to publish the poems, she said, "In the end, I felt the need to connect with other people that might be going through the same thing. It turned out that I'm very proud of it."
Now Shamaya and the rest of the band are looking forward to returning to the Southwest.
"It's one of our favorite places to play," she said.
It is rare to interview a musician who is aware of the Diné and for this reporter, it was cool to hear her say "the Diné Nation" without hesitation.
Shamaya has some interesting Native connections, including a Choctaw great-great grandmother who did not speak English but who raised four English teachers.
"Even though she's one person that's in my bloodline, she's still my blood," Shamaya said, adding that one of her dearest childhood friends was Navajo.
"We've been big supporters and advocates for your sovereign nation and everything you guys struggled with and overcome and are still fighting for," she said.
Tickets for the Otep show are $15 in advance, $20 at the door, and are available at The Juggernaut and at Day Customs in Window Rock and online at www.ticketweb.com.
Butcher Babies, One Eyed Doll, Hunters Moon and Butcher the Sheep will open the show, which starts at 7 p.m. Doors open at 6:30 p.m.