Health
Spread the word
Protect your family from lethal tick fever
By Shondiin Silversmith and Pauly Denetclaw
Navajo Times
TSÉ BONITO, N.M., July 26, 2012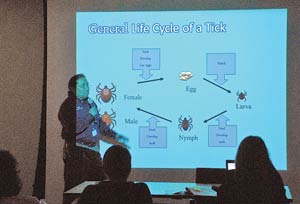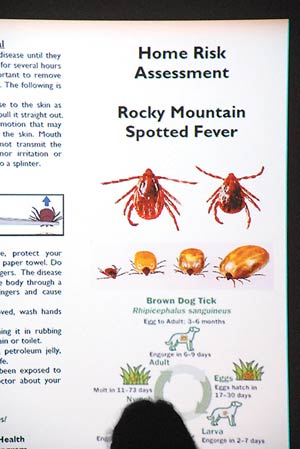 (Times photo - Paul Natonabah)
advertisement
N avajo Nation officials hosted a summit last week intended to alert the public to a new danger in the environment - ticks that can transmit Rocky Mountain Spotted Fever to humans.
Three types of ticks can transmit the disease - the American dog and brown dog ticks, both found on dogs, and the Rocky Mountain wood tick found in the Rocky Mountain states and southwestern Canada.
Members of the Foreign Animal Disease Task Force met at the new Navajo Nation Division of Transportation building and discussed illness signs to watch for, while other tribal officials described the ticks and their habitats on the Navajo Nation.
The summit is the first stage of public information, said Selena Manychildren, public information officer for the Navajo Nation Division of Health.
"We hope that people will take the information they learned today and start spreading the word," she said. "Prevention is easier than treating RMSF."
Melissa Benally, an office assistant with the Navajo Nation Community Health Representative and Outreach Program in Tuba City, said the summit provided a lot of good information and the highlight for her was the prevention techniques.
"There are things that we could do to inform our CHR clients when we go see them," she said.
Glenda Davis, team leader for the task force, helped organize the summit.
Davis said the task force was created to mobilize the tribal government to prevent foreign animal diseases from becoming epidemics on the reservation.
According to Davis, the task force was originally created to combat the West Nile Virus when the first cases in New York were confirmed.
It has since reorganized to combat Rocky Mountain spotted fever, which claimed 18 human lives in eastern Arizona since 2003. At least 250 other cases have been reported.
advertisements
---
Davis emphasized the importance of coming together as a community and controlling the dog population on the reservation, through which it spreads.
Davis also talked about the behavioral changes people must make to keep their homes safe from tick infestations, such as keeping their yards clear of weeds and debris and practicing legal waste disposal.
She said warm winters such as the past one increase the number of ticks during tick season, which is typically runs June through August.
The increase in ticks, of course, raises the chances of tick-to-human contact.
Typical symptoms of Rocky Mountain spotted fever include fever, headache, aches and pains, and red spots, bumps or rash. The disease must be treated early or it can result in death.
Prevention begins by protecting your dog and home, the officials emphasized. Check daily for ticks. Dog owners also are encouraged to use medicine, collars or shampoos that kill ticks that latch onto a dog.
Controlling the dog population by spaying and neutering is also a way to reduce potential tick problems.
Research Assistant Jalen Redhair of the Navajo Nation Epidemiology Center talked about community prevention activities, such as free or low-cost veterinary clinics.
Redhair said every animal with ticks is treated as a potential carrier of the disease.
James Benally of the Navajo Nation Solid Waste Program said the most common place for ticks is in yards with weeds and shrubs, woodpiles, dog houses, discarded tires and appliances, foundations and crawl spaces, un-skirted mobile homes, old horse trailers and vehicles, sheep corrals and residential dump sites.
"It's an individual's responsibility," Benally said about proper trash disposal and management.
"It takes a community to control this situation," Manychildren added.
Tribal veterinarian Scott Bender said this summit allowed everyone to have a single voice toward the issue.
"It's always a good idea to get everyone on the same page," he said. "We were able to get people from different areas to communicate with each other."
For information: The Centers of Disease Control website, www.cdc.gov/rmsf, or Navajo Nation Veterinary and Livestock Program, 928-871-6615.