PEOPLE
Engineering student turns fashion designer with statement Ts
By Shondiin Silversmith
Navajo Times
WINDOW ROCK, June 20, 2013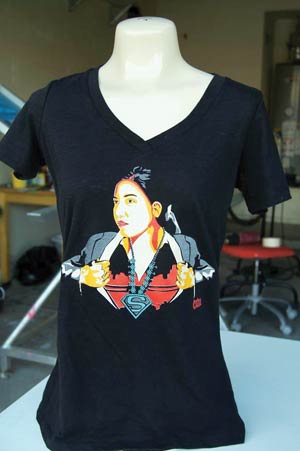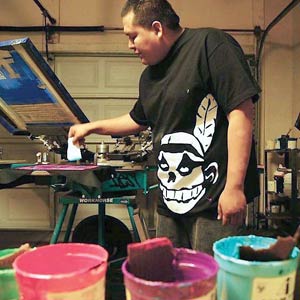 Å



(Courtesy photo)
advertisement
J ared Yazzie started out his college career with the intent of becoming an engineer. In fact, he received several scholarships to help him along the way at the University of Arizona.
After two-and-a-half years of working toward his degree, Yazzie, 24, made a drastic change: he switched his major to graphic design.
In the fall of 2009 Yazzie started designing his own T-shirts.
"I was just doing my own design work," Yazzie said.
That is when he developed the brand OxDx for his designs. It stands for "Overdose." He said the name came from how he sees the world because everyone is overdosing themselves with unnecessary things.
"I always thought of a T-shirt as billboarding," Yazzie said. "I just want a way to interact with people, and I think T-shirts are the most interactive tool. I call it a walking billboard."
Yazzie was doing a lot of design work but he didn't get the idea of selling his T-shirts until his friends started offering him money for them.
"They paid me 25 bucks," he said, "and I designed a shirt."
He sold his first shirt design to 25 people, whom he calls his "dream team." The design on his first shirt was of a Navajo child's head with a distorted dream bubble floating above him and a bandana that says "dreamer."
"After that I had enough money to come up with my next design," Yazzie said.
He left UA and moved to Phoenix in 2010 where he continued to design his shirts.
"Everything is either hand-drawn by me or graphically altered by me. I do all the graphics for my stuff," Yazzie said. Each of his T-shirts is either screen-printed or hand-painted.
Yazzie learned the screen-printing process in his brother's garage from a friend in 2011. When he first started, his designs would be sent out to screen shops and professionally printed, but does the printing himself today.
He would sell his shirts at flea markets, youth conferences, art shows and fairs. He continued marketing his product in this manner until he turned OxDx into a real business in 2012 and developed his OxDx online clothing line.
"Everything before that I was just selling on the rez," he said. "It's something I care about and it was just growing."
Yazzie said he has over 20 T-shirt designs "out there that are just floating around." Each of his shirts is a limited edition.
advertisements
---
"Everything I do has a message and I want people to think. I have some pretty strong messages," Yazzie said, noting his shirts have been known to start conversations. "It's a way for Natives to be fashionable and make a statement while doing it."
Yazzie said the designs he produces are some really fun stuff, but he also likes to touch on Native American issues.
"It's nice to have a design that meshes well with what everyone is wearing, but it's a Navajo design," Yazzie said as he described one of his shirts called the "Music Tee."
This design depicts a traditional Navajo woman in full attire with a pair of headphones on. Within the headphones is the Navajo wedding basket design.
"I try to do my best to get everything accurate," he said, "which is really hard."
Another design by Yazzie is called "Not A Trend." He said he produced this design in reaction to media representations of Native Americans.
He said it seems that it's becoming more and more common for people to dress up like Indians for fun, using as an example the headdress-wearing model from a recent Victoria's Secret fashion show.
"It's just kind of crazy," Yazzie said. "It's like racism that's going on today and it shouldn't be. Nobody understands it from a Native perspective and I was trying to bring that to light."
As a way to do that he developed the hashtag "Not A Trend" so people can use it on Twitter and Instagram when they want to make a statement.
Yazzie said now that his clothing line is developed and his designs are becoming more popular his shirts have taken on fashion appeal.
"I've never seen a T-shirt brand do that. I love that I'm getting respect on a fashion level," Yazzie said.
He's even being invited to fashion shows - most recently at Arizona State University, and next in South Dakota at the end of the month.
Yazzie said his shirt "Native Americans Discovered Columbus" has shown up on the CNN and Rolling Stone magazine Web sites. On CNN his shirt was worn by a model for a story about the "Beyond Buckskin" fashion blog, and Rolling Stone showed his shirt on artist Nahko from Medicine for the People during a performance in Seattle, Wash.
Alongside his online clothing line Yazzie works for Express Screen Printing in Phoenix. He is also a student at Mesa Community College where he hopes to complete his degree in graphic design. He is originally from Holbrook, Ariz. and his parents are Kee and Shirley Yazzie. He is Ashiihi born for Todich'ii'nii.
For more information visit: www.oxdx.storenvy.com.
Contact Shondiin Silversmith at 928-871-1138 or editor@navajotimes.com.