Arts, Entertainment & Culture
Tribal fair ends on thunderous note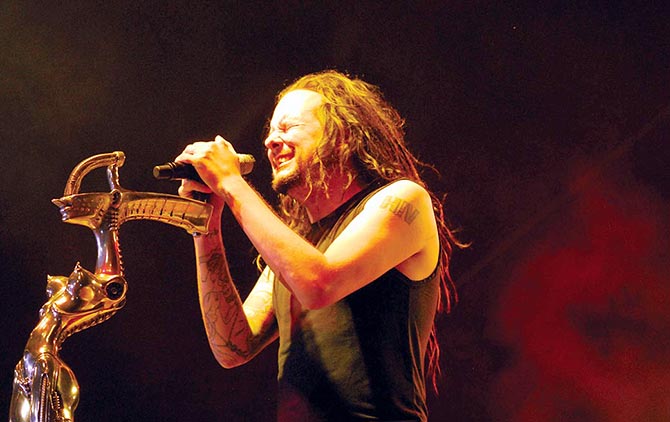 (Special to the Times - Donovan Quintero)
Korn treats crowd to great metal mania experience
By Marley Shebala
Navajo Times
WINDOW ROCK, Sept. 15, 2011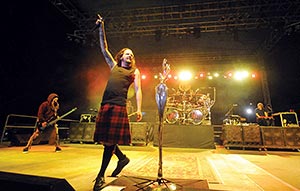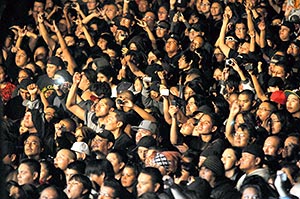 (Special to the Times - Donovan Quintero)
advertisement
I
t may sound like a cliché but Korn rocked Window Rock.
If you were among the thousands of fans that packed the Dean C. Jackson Arena Sunday night then you witnessed international nu metal band Korn make Navajo Reservation rock history.
And if you weren't at the arena but you were on the tribal fairgrounds or even in area surrounding the fairgrounds, your ears became a part of the 65th annual Navajo Nation Fair Korn concert.
A day after the Korn concert, an individual visiting friends at the Navajo Housing Authority complex near the post office, said he could hear Korn blasting out their songs.
Jovonaa Frank, 28, of Twin Lakes, N.M., said on Tuesday that she was still "partially deaf" from the concert.
"But either way, I really enjoyed it," Frank almost shouted over the telephone. "It was a fantastic way to end the Navajo Nation Fair."
Frank, who was among the first four people to buy a Korn ticket when they went on sale at the Navajo Nation Museum on Sept. 4, said she was at the front of the stage when the concert started but got pulled back to the middle of the west side of the arena floor by her husband.
She said he didn't want her to get caught in the mass of fans who immediately rushed the stage as soon as Korn drummer Ray Luzier started whacking his cymbals and guitarist James "Munky" Shaffer blasted out a hail of guitar riffs.
Shaffer slammed down the concert door for vocalist Jonathan Davis' high clear tenor voice that sometimes wraps around your body in a tight hot grip or pierces your spine like an electric shock.
The first words out of Davis' mouth were a body tingling growl, "Are...You...Ready!!!!," the opening lyrics from "Blind," Korn's first single off their self-titled 1994 album.
Bassist Reginald "Fieldy" Arvizu's solid but powerful wild bass riffs whipped the fans into insane head banging.
Vibeka Mitchell, 30, of Naschitti, N.M., who has seen Korn nine times, counting the tribal fair concert, said in a telephone interview on Tuesday that she recorded Blind and the encore compilation of eight or more songs, including their final song, "Y'All Want a Single", on her cell phone.
"Y'All Want a Single" drove the fans to near chaos. Davis would sing a couple of lyrics and then turn the mike over to his fans who knew every word of Y'All.
Mitchell said that Korn sang all her favorites, which included "Freak on a Leash," "Shoots and Ladders," "Got the Life," "Falling Away From Me," and "Get Up."
"They actually came out to the reservation," she added in amazement. "They're a big name band. They've gone all over the world. Who would have thought they would have ended up in Window Rock!"
advertisements
---
Mitchell laughed and said that of all the Korn concerts she's attended, she liked the Window Rock best.
"The crowd had more energy," she said. "People were really excited. And the sound system was good and clear."
Her only regret was that no Korn memorabilia was sold.
"They would have made a lot of money," Mitchell said.
Frank said that if the tribal fair management continues to bring the "biggest name bands that are non-country" to the tribal fair, she and her husband will go to the fair.
Navajo Nation Museum Director Manuelito Wheeler, who was unexpectedly handed the duties of overseeing the tribal fair on July 7, said that the Korn concert became a reality through a united effort by tribal divisions and departments.
Wheeler also thanked Randall Hoskie of Rancid Savage Productions, who connected Wheeler with Korn's management.
"We only had a month to work out all the logistics to bring Korn," Wheeler said. "We got help from the president's office, Controller Mark Grant's office, Division of Natural Resources Director Fred White, and the Divisions of Finance and Public Safety. Everybody really came forward to help us make this show happen."
Navajo Nation President Ben Shelly introduced Korn and stayed for the entire concert.
Frank said it was "pretty cool" that Shelly introduced Korn.
Shelly and some of his grandchildren sat in an elevated enclosed executive office box seat area, which is located on the north side of the arena and faced the stage.
Vice President Rex Lee Jim stayed for a portion of a concert.
Executive Office Communications Director Laphillda Tso said on Tuesday that Shelly enjoyed the concert.
Tso confirmed that Shelly, his grandchildren and Jim met briefly with Korn before their show.
She also confirmed that Jim met separately with the members of Korn in a hogan, where he rolled tobacco that he smoked with the bandmates as he talked to them about Navajo teachings.
"It was a cultural exchange," Tso said.
She said that Jim asked Korn to talk to them about the lyrics of their songs.
Tso said that the nation's two top leaders helped Wheeler and his staff bring Korn to Window Rock because they recognized that there was a segment of the Navajo population that enjoyed rock music.
They understand that the tribal fair should provide a diversity of entertainment that appeals to everyone on the reservation, she added.
And she said they also knew that Korn would definitely draw more people to the fair on the final day and night of the fair so the fair could financially break even.
Wheeler said that he is working on an overall final report on the tribal fair, which he will provide on Sept. 16.
It will include how many tickets were sold for the Korn concert, he noted.
Wheeler added that there were no serious injuries or incidences at the Korn concert.
He said that there were a few fans who needed oxygen after being pulled from the front of the stage by Dine Security.
Dine Security manager Rob Day said that his company has been providing security for concerts on and off the reservation, including Albuquerque and Phoenix for more than 10 years.
Day and security worker Duane Tsosie said that they and several other security staff worked almost non-stop on pulling individual fans from the front of the stage.
They explained that the crowd from the back of the stage tends to push forward, which can create a lot of pressure on some individuals at the front of the stage.
Tsosie said the mass of bodies also generates a lot of heat.
They noted that the Korn fans had a great time and that's what it's all about.
Day complimented the "new fair management" for proving that Sunday of the tribal fair doesn't have to be the "loneliest day of the fair.
"Naadáán (corn)!" Tsosie yelled with a huge smile.
Tsosie wasn't the only one yelling Korn with a huge smile. Many of the Korn fans could be heard yelling "Korn!" as they made their way down the fair midway toward the carnival.
Wheeler said that every time Korn yelled out "Navajo Nation" that the crowd went "berserk!"
The crowd also went berserk after an unknown fan threw a white cloth to Shaffer and he held it up.
As soon as the crowd saw that it was a Blue Bird flour sack, they roared with thunderous applause, screams, yells and whistles.
Wheeler added that security turned in a pillow that was found in the grandstand after the concert. He said that the next day as he was meeting with fair staff, a young lady came into the office and asked if anyone had found a pillow.
She said that her 79-year-old grandmother forgot it at the concert.
Wheeler said the story about the grandmother, Mary Etsitty, along with her photo, is posted on the "Navajo Nation Fair 2011" official Facebook.
According to the fair's FB, Etsitty's grand-daughter, who was not identified, said that she and her siblings have been to 11 Korn concerts but that the Window Rock concert was the "very best."
The granddaughter also said that the Korn concert was the grandchildren's birthday gift to their grandmother, who is a Korn fan.
"We were all in awe of Ms. Etsitty and her family of rock and we were definitely reminded that we cannot underestimate anyone," fair staff said.