Sports
Working toward the black belt
10-year-old finds a passion in mixed martial arts
By Candace Begody
Navajo Times
WINDOW ROCK, June 30, 2011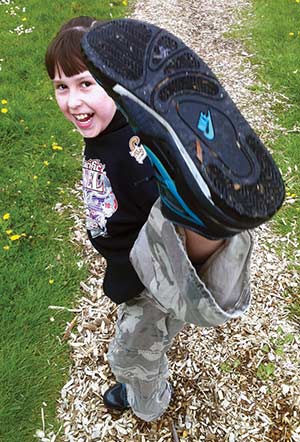 (Courtesy photo)
advertisement
A
ll Taylor Berglund needed was to see that it could be done and after reading an article in a 2010 issue of the Navajo Times that her grandmother sent her, she knows she can.
Berglund, 10, who has lived in Oregon since she was 3, flipped through the pages of the newspaper and read an article about Jessie Bates, a Navajo from California who managed to swipe a bronze medal in the taekwondo competition at the 2010 Youth Olympic Games.
"Really? Wow!" Berglund recalled of her reaction. "Right there, I told my parents, 'This is what I want to do.'"
Berglund is an advanced blue belt and one of four at the Aim High Academy of Martial Arts in Beaverton, Ore., pursuing a black belt in mixed martial arts.
Though Berglund's ultimate goal is to make a run for a gold at the junior Olympics in the near future, she said earning six gold stripes - instead of black - to her blue belt, is the first step to making her dream a reality.
At least six black stripes must be earned in order to advance to the next belt. Some may aim to earn gold stripes as well but only a select few have succeeded, according to Danny Sikkens, executive director of the Academy and a third-degree black belt.
"I made that decision because if I'm going to compete at the junior Olympics, I want to be sure that I can do the best that I can," Berglund said.
advertisements
---
She said she has four gold and two black stripes on her belt.
"I want to aim high for the gold and if I'm going I'm not going to waste it by being lousy and not trying my best," she said.
Whether she earns all gold or not, no one can doubt that Berglund has come a long way, according to Sikkens.
"She was a goofy bright-eyed girl with a giant smile and had extremely positive energy," Sikkens said. "So it was very interesting to me when her parents told me she was interested in training for the Olympics."
No one knows best how far Berglund's come than her parents Floranda and David.
"'Don't expect to win,' that's what we told her when we took her to her first tournament," Floranda recalled. "It was just her first time, but of course after that, we learned our lesson."
Berglund ended up taking first in traditional forms and then third in sparring at the 2009 Rising Sun Tournament in Oregon.
"Taylor said, 'You doubted me,'" Floranda added. "We're not doubting her anymore."
In having met Berglund and her parents, another first for Sikkens and the Academy came about when the trio proposed the idea of training Berglund for the Olympics.
"I never had a student propose that before because we don't train students to go into the Olympics," he said.
It was even more of a surprise for Floranda and David.
"I was pretty shocked but I told her we would support her," Floranda said.
Though Berglund would wake early to complete her homework, she didn't have a lot of free time as she spent every free minute including the weekends practicing her forms.
Berglund has earned first- to third-place finishes while competing in a number of tournaments in Oregon and Washington state as well as some National Blackbelt League tournaments.
Her most recent accomplishment was competing in the 2011 Portland Invitational in Vancouver, Wash., and winning her first grand championship in forms on June 18.
"I was really nervous because I was the only one competing from my school," Berglund said. "When I got first place, I was shocked."
Berglund took full advantage of the small mistakes made by her male opponent.
"I felt like I was ready but I was most scared about going against an advanced belt," she said. "He had a really good form but he just had a little bit of things he had to fix."
Berglund placed in four divisions. She took third in point sparring and then first in traditional, open weapons forms, and open forms to secure the grand champion title.
As for her black belt, Sikkens said, "She'll make a fantastic black belt. She already has the self-motivation to outshine her peers in class."
To obtain her black belt, it will be a six-month long test, which is given once a year. Berglund must first qualify to take the test. The test includes competency in sparring and forms and community service and black belts are to recertify each year once they have earned their belt.
"It's a bigger concept," Sikkens said. "But she made that goal for herself."
Berglund, a 5th grader at Kinnaman Elementary, is Water Flows Together Clan, born for Irish. Her mother Floranda is from Crownpoint.