sports
Accepting the challenge
After stellar career in Southern California and Stanford, coach comes to Sanders
By Oree Foster
Special to the Times
SANDERS, Ariz., Sept. 25, 2014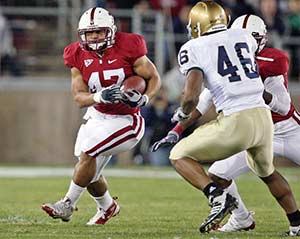 (Courtesy photo – Stanford athletics)
advertisement
V
alley head football coach Josh Catron says he likes challenges.
After a stellar career at Torrance High School in Southern California as a two-sport athlete, Catron accepted a football scholarship to Stanford University.
"I accepted the challenge of playing at a Division I school," he said. "I knew it would be tough and there would be excellent athletes on the football team. Stanford has a football tradition. I accepted the challenges."
During his freshman year, Catron was redshirted, allowing him an extra year of competition.
"An extra year would give me a chance to work on my game, to better myself," Catron said. "When I reach my final year of eligibility, I would be a fifth year senior. It was fine with me."
Catron accepted teaching and assistant football coaching positions in 2012 with Valley. After several games, Catron was promoted to head coach when the current coach resigned from the school district and moved his family to Pinetop, Ariz.
"Again I accepted a challenge by coaching here," he said. "I have good kids who want the learn and play the game of football. They are hard workers, with a good attitude."
Catron built a foundation for the football program. The Pirates are currently 3-1 on the year. The Pirates travel to Window Rock to face the Scouts this Friday at 7 p.m. Catron said the game against Window Rock is a test for his football program. He said Window Rock has a strong team.
"In addition to playing football, I teach the kids what life is about," Catron, who played for Jim Harbaugh at Stanford from 2005-08, said. "I tell the kids they can do it. The kids have to gain confidence in what they are doing. Along the way the kids must remember expect the unexpected."
How to get The Times: