sports
Miyamura Patriots clip St. Pius X to go 6-0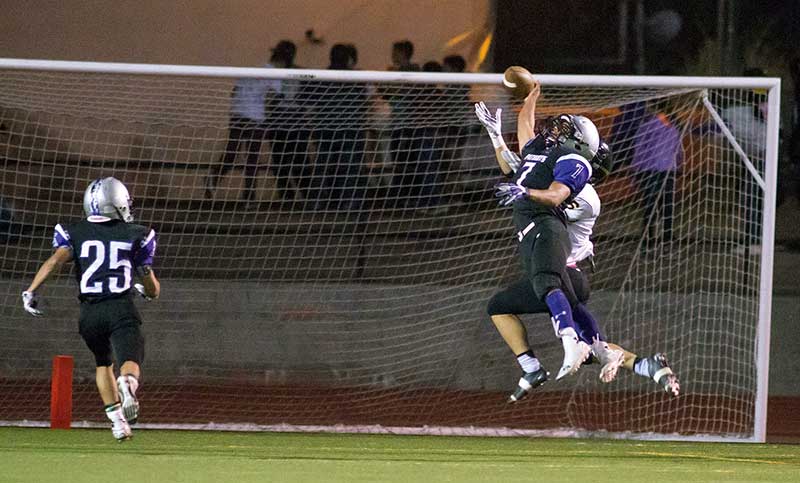 (Times photo - Donovan Quintero)
By Quentin Jodie
Navajo Times
GALLUP, Oct. 9, 2014
A
bout this time last season the Miyamura football team stumbled out of the starting gate and finished out their season with a 2-9 slate.
This year, however, they are painting a different picture, as this year's squad has yet to concede a game.
"We had a very small senior class last year so we have a lot of guys that have experience," Miyamura coach Wes Shank said. "Some of them have been playing for two years now so that has been paying dividendsFZThe payoffs are certainly yielding a return as Miyamura has opened the 2014 season with a 6-0 record, which includes last Friday's homecoming win over Albuquerque St. Pius X.
The Patriots overcame a 10-point halftime deficit and tallied 20 points in the final two quarters to score a monumental 27-24 win over the Sartans.
"This is real huge," Shank said. "We struggled defensively in that first half and I am so proud of them for stepping up in the second half. They made some plays when they had to."
Miyamura quarterback Josiah Shank, who scored three touchdowns, said they fixed their attitudes at the half to secure the come-from-behind.
"As seniors we didn't want to lose on our homecoming," Josiah Shank said. "We knew that we could come back and win. We set our attitudes right in the locker room. We came out with intensity and we came back to win it."
How to get The Times: