sports
MV plays their game in victory over Newcomb
By Sunnie R. Clahchischiligi
Navajo Times
NEWCOMB, N.M., Oct. 2, 2014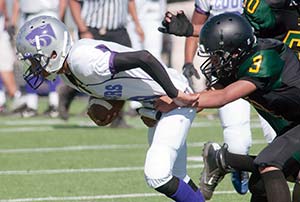 (Times photo – Donovan Quintero)
advertisement
T
he Newcomb Skyhawks and Monument Valley (Utah) Cougars may not have had anything to lose in their recent matchup but they didn't play like it.
With district and region games around the corner, the game held on Sept. 25 in Newcomb (2-2 overall), was just as important as the rest, especially for the Cougars (2-4 overall, 1-3 in region).
Monument Valley, who made the nearly three-hour drive, defeated Newcomb 20-12.
Monument Valley head coach Jim Dandy said a victory is satisfying especially at this point in the season.
"It feels good to win, no matter what. It's a competition, it's a game," he said. "We just had the mindset to come in and play our game … our main goal was just to come in and get a win."
How to get The Times: