sports
Shiprock Northwest reaching volleyball potential
By Sunnie R. Clahchischiligi
Navajo Times
SHIPROCK, Oct. 9, 2014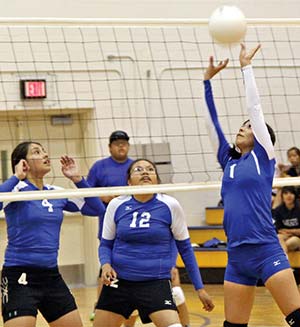 advertisement
S
hiprock Northwest High School opened up the District 1-2A season with a confidence boost they've needed.
Since the beginning of the season, coach Vivian Montoya has said her team had potential but they had trouble believing it.
The Lady Falcons defeated Navajo Pine 3-2 (20-25, 25-23, 25-17, 17-25, 15-13) in the district opener on Oct. 2.
"This is a really good way for them to see that they are that good," Montoya said. "I truly believe that the girls are extremely talented. They just need to believe in themselves."

How to get The Times: