Sports
Thomas wins Narbona Pass Classic
By Candace Begody
Navajo Times
NARBONA PASS, July 7, 2011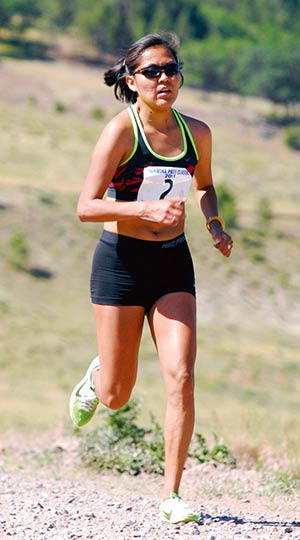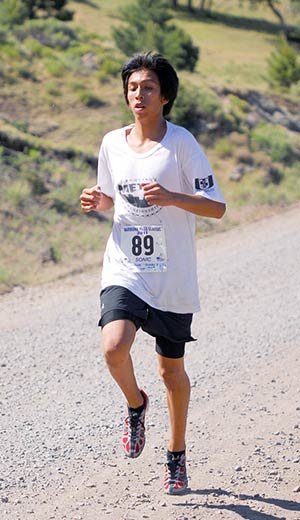 (Special to the Times - Donovan Quintero)
advertisement
I
t's runners like Jackson Thomas that make the annual Narbona Pass Classic a race worth competing in - just take a glimpse at his resume.
As a junior, Jackson ran for Class 4A Del Norte High in Albuquerque and earned an invitation to race against the best high school runners in the nation at the Nike Cross Nationals Southwest Regional race last November, where he finished 32nd with a time of 15:56.60 in the 5,000-meter run.
Just weeks before that, he finished 5th at the New Mexico state meet with a time of 16:19.90.
More recently though, Thomas, originally from Naschitti, N.M., added another line to his resume as he captured his first championship trophy in the 10K race of the 32nd annual Narbona Pass Classic race over the weekend with a time of 39:43.
"This was my first time running this race," Thomas said. "I didn't know if I would be ready for it or if I had enough energy for the hills because we're usually only faced with flat trails in Albuquerque. We just stay in town and run.
"It was really hard and tough going up but going down was pretty easy," he said of the course. "Goat Hill was the hardest."
Going up the infamous Goat Hill, a slow and sandy incline near the two-mile mark that only gets steeper, Thomas said he was in third place but secured first place as he coasted down the last stretch to win by nearly 100 yards.
He didn't break the record, which was set by Nicholas Kipruto, a former Diné College runner from Kenya, in 2009 with a time of 25:14, but Thomas said he plans to return next year to defend his title.
Despite an injury, Johnathan Yazzie managed to finish the six-mile race behind Thomas and improved his time from last year.
"I suffered from torn tendons and ligaments and was still recovering from that," said Yazzie, the 10K runner-up. "I had to take two weeks off but once I was able to run, I slowly increased my miles."
Yazzie, a senior at Chinle High, finished the race in a time of 40:02. Last year, he finished fourth.
"It was a brutal race," Yazzie added. "But I had to talk to myself in my head and tell myself that I am stronger and to keep going."
Yazzie also competed in the invitation-only Nike race, and placed 17th with a time of 15:45. He also placed 4th at the Arizona Division III state championships with a time of 15:55:20 and then 6th in what many have dubbed Arizona's ultimate state championship - the Doug Conley Invitational - with a time of 16:28.
advertisements
---
This year's raced featured the area's top male runners such as Juwan Nuvayokwa from Hopi and Chinle's Searle Tracy.
"I just had my eyes on Juwan because he beat me last time," Yazzie said. "He helped me set the pace."
Nuvayokwa finished third with a time of 40:14 followed by Tracy, who clocked a 42:22.
Capturing her 10th consecutive title was Ganado's Alvina Begay, who placed first in the women's 10K with a time of 43:06 - nearly three minutes away from the record - and sixth overall.
"The course is always tough and demands respect," Begay said. "I try to prepare as much as I can each year but it still feels tough."
Holding the record since 1987 is Canadian Angela Chalmers, who took home a bronze medal in the 3,000-meter run at the 1992 Summer Olympics in Spain.
Begay's 10th championship doubles the titles earned by her father Alvin Begay, one of the top runners in the nation in the 1970s.
"My family has history at Narbona so a win is always special and fun," Alvina Begay said. "I was really excited more people participated in the event this year."
Chinle's Rolonda Jumbo followed Begay three minutes later as she crossed the finish line in 46:08 for runner-up honors. Deriann Yazzie placed third with a time of 52:28.
In the 5K race, Aaron Biah placed first in the overall men's category with a time of 20:43, followed by Theodore Claw with a time of 21:34, and then Derek Henio with a time of 22:01.
Esther Beck took the overall honors in the women's division with a time of 24:23 followed by Chelena Betoney who crossed the finish with a 24:59.