Sports
A new - Diné - face in Cowboys' squad
By Shondiin Silversmith
Special to the Times
WINDOW ROCK, Sept. 22, 2011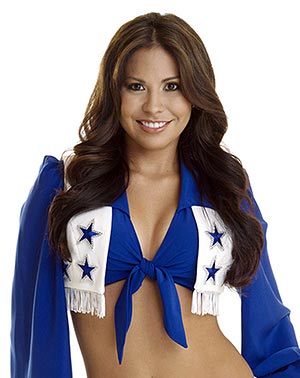 (Courtesy photo)
advertisement
W
ith a little hard work and dedication, dreams do come true.
That is what Veronica Ann Lind believed when she went to audition for the Dallas Cowboys Cheerleaders, possibly the most famous cheer squad in pro sports.
Lind said she first wanted to be a "DCC," as she calls it, when she watched the Cowboys' games on TV as a child growing up in Austin, Texas.
Her family has roots in Fort Defiance, but she was born in Panama and has lived in Texas for much of her 23 years.
"I first decided to be a DCC when I was a very young girl," she said. "My stepdad, a strong cheerleaders supporter, always told me I would be a DCC."
Lind, who is Tabaaha (Edge Water Clan), born for Naakaii Dine'e (Mexican People Clan), started dancing in high school.
Her love for dance inspired her to attend the cheerleader auditions held annually at the Cowboys' home stadium in suburban Dallas.
Each May up to 600 young women from across America pursue the same dream, and this year Lind was one of them.
The preliminaries, semifinals and finals of the audition process resulted in the selection of 45 candidates who would go on to a two-month training camp, and she was among those chosen.
Lind, it should be noted, wasn't only competing against other new girls - members of the previous year's squad have to earn their place on the new squad too.
The cheerleaders training camp started June 1 at Valley Ranch in Irving, Texas, where the DCC organization is headquartered, and "it was kind of nerve wrecking because I didn't know what to expect," Lind said.
Sessions took place Monday through Friday starting at 7 p.m. Each member was required to rehearse for four or more hours at a time "under the critical eyes of their director, Kelli McGonagill Finglass, and choreographer Judy Trammell," states a DCC press release.
According to Lind, they were judged on appearance, personality, showmanship and performance for the team.
"It was a really hard process. We had to learn so many dances and just the pressure of being perfect," she said, "but of course you push through because you want this so bad. It was fun, it ended up being such a great experience."
After the training camp ended Aug. 1, 34 girls made the team this year, including Lind, believed to be the first Navajo to join the famed cheer squad.
"I think that every girl is chosen for a different reason. It's hard to say exactly why I was chosen," she said. "It was just like a dream come true. All of the hard work and stress, it was just a relief because I earned my spot."
advertisements
---
After learning she'd been chosen, the first person she called was her mother, who says, "We're extremely proud of her."
The basic duties of a Cowboys cheerleader are the dance routines before the game starts, performing routines on the sideline where they remain throughout both halves of the game, and during breaks performing four major routines on the field including the touchdown decks.
Lind will make her first appearance with the squad at a home game on Monday, Sept. 26, when the Cowboys take on the Washington Redskins.
Her mother said this first home game in Dallas will be extra special because Veronica Ann's stepfather, Robert Lind, is coming back from his service in Iraq to attend it.
"I really am proud to be a Native American on the DCC team, hopefully I can be a role model to the Native American community, help them set goals and understand that you can achieve every goal and every dream that you want to," Lind said.
"Never give up and always follow your dreams. If you want to do it you find a way to do it. Always work very hard, even if you want to give up."
Often imitated, never equaled, goes the slogan. They are America's sweethearts, the Dallas Cowboys Cheerleaders.
If you're interested in joining Veronica Ann, visit www.dallascowboyscheerleaders.com to learn all about it.