Sports
Wowing the rez
After a stunning film, a stunning announcement in Chinle
By Cindy Yurth'
Tséyi' Bureau
CHINLE, August 16, 2012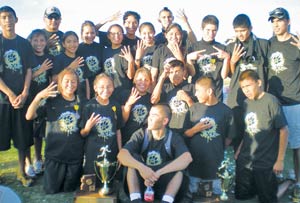 (Times photo – Paul Natonabah)
advertisement
A s if the evening wasn't already emotional enough, what with reliving the heartbreakingly close 2008-09 cross-country season with Chinle High School athletes and their families, head harrier coach Shaun Martin delivered a stunning announcement Monday: He is resigning after eight years bringing the team from obscurity to greatness.
An audience of about 40 had just finished viewing the new documentary "Racing the Rez," about the 2008-09 cross-country rivalry between Chinle and Tuba City when Martin, one of the stars of the film, announced he will stay on at Chinle High as a phys-ed instructor but has turned his coaching whistle over to George "Geo" Muniz de Lucero.
At 30, Martin said he is feeling the call to progress in his own running career and has accepted a sponsorship from an apparel company.
"I've put my own life on hold," Martin told the crowd, several of whom were tearing up. "It's time for me to chase my dreams."
In addition to his coaching, Martin has made a name for himself in the narrow lane of extreme endurance runners known as "ultra-marathoners," and it's not surprising a clothing company wants to slap its brand on the tall, lean bilagáana/Navajo.
His wife Melissa Yazzie Martin pronounced relief at her husband's decision, declaring that the couple's two young children "get their dad back."
The announcement was met by a gush of support from the crowd, mostly parents of Martin's former protegés. One mother said her son had turned his life around in cross-country and become a role model for his entire extended family.
advertisements
---
Martin, in turn, complimented his team for their persistence and filmmaker Brian Truglio for capturing a "most special time period" in the history of Chinle cross-country -- "that innocent time before we just blew up and became what we are now" (i.e., the holders of multiple state championships).
Truglio, a former rez teacher and cross-country athlete himself, said he wanted to make a film that not only highlighted the sport of cross-country but also the beauty and hardships of life on the Navajo Nation.
Four years ago, after moving to Boston, Mass., he had bounced the idea off his friend Tom Riggenbach (of "Tour de Rez" and "Chuska Challenge" fame), who reportedly told Truglio, "You have to get out here right now."
The resulting documentary chronicles the events leading up to the 2009 state championships, in which the Warriors and the Wildcats were the main contenders — but also zeroes in on some of the deceptively fragile, eminently likable teen athletes and their struggles on and off the course.
Several of the runners profiled have pretty severe daddy issues, and end up looking to charismatic coaches Martin and TC's Carl Perry as lighthouses in a dim social landscape.
It's a function Martin says he takes seriously and will continue to provide if he can.
"I'm still here to support the team," he declared. "I'm still here to be a role model."
Perhaps more gratifying, some of the young runners — most of whom have graduated and gone on to college — professed that they would like to fill that role for a new generation of rez kids.
Koyai Clauschee, who left Tuesday for Haskell Indian Nations University where he has accepted a basketball scholarship, said his goal is to become a mentor like Martin was to him.
"I'd like to come back and teach these other kids," he mused. "I hope I can motivate people."
"Racing the Rez" will air on Arizona's Channel 8 in November. Information: www.racingtherez.com