Sports
Diné contestants leave INFR empty-handed
By Quentin Jodie
Navajo Times
LAS VEGAS, November 15, 2012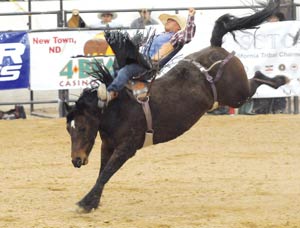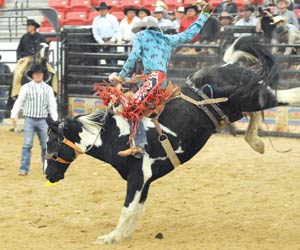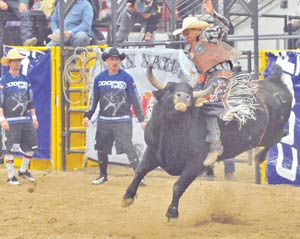 (Courtesy photo)
advertisement
T he scene played out perfectly for the six newly crowned world champions at this year's Indian National Finals Rodeo.
It's not unusual to have that many first-time winners, but none of those champions were from the area as the Navajo contingent got shut out for the first time in the INFR's 37 year history.
"I came out and did my best," Window Rock bull rider Justin Silversmith said, when told that he was one of two contestants that finished second among the Navajo athletes.
After getting bucked off in the first round, Silversmith bounced back with a second place finish in the average.
The 18-year-old won the next two go-rounds and amassed 161 points on two heads with his best effort coming in the second round with an 81-point ride.
Then in Saturday night's championship round, he received a 71-point ride on "Wolf" and finished the five-day rodeo with an aggregate of 232 points.
He finished second to Dakota Lewis as the Montana cowboy covered all of his bulls and finished the average race with 295 points. Lupton, Ariz., cowboy Tustin Daye placed fourth with 156 points on two bulls.
In the first round, Silversmith said he rode his bull for 7.8 seconds and felt that he could have given Lewis a run for his money.
"I was only two-tenths of a second away," he said of his first ride. "I was that close, but after that I started riding good."
Round Rock, Ariz., cowboy Erich Rogers was the other contestant who finished second in the tie-down event. Rogers recorded four runs in 43.62 seconds.
He lost the title to first-time winner Steve Brickey as the Oklahoma cowboy recorded an 8.5 run in the short round and finished the four-run average with an aggregate of 38.43 seconds.
"I was really wanting to tie her in seven seconds, to be honest with you," Brickey said. "I knew I had a good calf so I just wanted to get out of the barrier and made sure I got her caught to have a chance."
With a 44.02 average, Kyle Dennison came in next in third while Brimhall, N.M. cowboy Donovan Yazzie placed fifth with a 49.45.
In the steer wrestling, Mexican Springs, N.M., cowboy Brandon Bates placed third with a 21.78.
"I did the best I could and I let the chips fall where they may," Bates said. "I didn't place in any of the rounds, but I didn't leave here empty-handed."
In the final round, he airplaned his steer in 5.05 seconds despite drawing a bad steer.
"I was still in there even though I drew a strong set of steers all week," Bates said. "I did the best I could with them."
As for the Navajo contestants coming up short for a world championship bid, Bates said he wasn't that surprised.
"Some races were pretty tight," he said, "but that's the way it goes sometimes."
Bates trailed event winner Nolan Conley by three seconds as the Cut Bank, Mont., cowboy secured his title by throwing his steer in 4.0 seconds in the championship round.
"I knew I had a good one," said Conway, who won his first world title. "All I had to do was get out of the barrier and throw him."
Canadian cowboy Otys Little Mustache placed second behind Conway with a 20.68 aggregate.
In the team roping, Edward Hawley and Ty Romo claimed their first title ever by roping it safe in the final round.
advertisements
---
With more than 12 seconds to play with, the team roping duo recorded a 6.61 run and finished the average race in 24.26 seconds, which was five seconds better than the team of George and Casey Cummins.
"I knew that I had to get this one caught because I knew Ed was going to be fast," Romo said. "I just had to make sure that I caught both hind legs."
As a five-time qualifier, Romo said he didn't want to experience the same feeling he had when he lost the world title by one-tenth of second in 2006.
"Even with 12 seconds I didn't want to over-safety it and mess it all up," he said. "I just wanted to take my shot and make sure it was good."
As for Hawley, he said they had to stay aggressive even though they had plenty of time to play with.
"It was a hard fought battle," Hawley said. "I just wanted to get a good start and get him caught and have Ty finish out the job."
With an aggregate of 36.26 seconds, Kesley Phillips and Kevin Yazzie finished in fifth place ahead of team roping combo of Chris Cole and Leo Ramone. The latter pair roped four steers in 37.44 seconds.
In the breakaway event, Bobbie Riggs of Bapchule, Ariz., produced four solid runs and walked away with the title.
But in her final round, her horse started to "act up" as she was trying to get him set inside the roping box.
"I think the noise and the atmosphere got her nervous," Riggs said. "I wasn't nervous and I was ready to rope, but obviously she got a little too excited before my run."
Gallup breakaway roper DeeDee Daswood finished the average race in third place by roping four calves in 16.21 seconds while Tohatchi cowgirl Devyn Dennison finished in fourth place with a 17.66 aggregate.
In the barrel racing, Michelle West manufactured the fastest run by covering the cloverleaf pattern in 14.906 seconds in the short round and finished her four run average in 60.278.
""I have won the Southeast Circuit Finals and the Dodge National Circuit Finals so he's been a real big blessing to my family," West said of her painted horse. "You know this was suppose to be my mom's horse, but she said it was too much horse for her so I sold him."
But after a few months the "lady sent him back to me. She wanted me to keep him awhile so I got to bring him out here," West said.
Women's all-around winner Courtney Frazier placed second behind West with a 61.589 average.
Standing Rock, N.M. cowgirl Genevieve Tsouhlarkis finished in sixth place by completing four runs in 62.164 seconds.
In the bareback event, Buck Lunak won his first world championship by scoring an 80-point ride in the short round and held off Shane O'Connell.
Lunak finished the average race with 307 points, three points ahead of O'Connell.
"This was my uncle's horse so I knew I had to ride him," Lunak said.
Rock Point, Ariz. bareback rider Ferlin Tsosie finished in 11th place by riding three draws for 207 points.
In the saddle bronc, Jarrett Monroe came up with a 63-point ride in the short round and moved up three spots to claim the world title.
He beat out men's all around winner Rollie Wilson as the Buffalo, S.D. cowboy trailed Monroe by four points.
"I got a little behind so I was just thinking about lifting and charging," Monroe said of his final ride.
Saddle bronc rider dies during INFR
By Quentin Jodie
Navajo Times
LAS VEGAS – The Indian National Finals Rodeo lost one of its members when saddle bronc rider J.D. Jones was killed over the weekend here.
Jones' foot got caught in his stirrup and was pinned underneath his horse. He died later from injuries.
"In Indian Country w e are one big family, we all know that and this is a special group," said rodeo announcer Ray Champ just before the awards presentation. "As family members when something happens we take care of them no matter what. We forget about everything we take care of the family."
In his honor, the INFR auctioned off four items and raised more than $10,000 with some of the contestants donating some of their earnings.
According to the INFR, Jones' funeral service is scheduled to take place on tomorrow, Nov. 16 at 2 p.m. at the Flying Cow Arena in Afton, Okla.
An account has been set up for JD's family and son and more information can be found at www.infr.org.