GOLF
Trio open golf course at Steamboat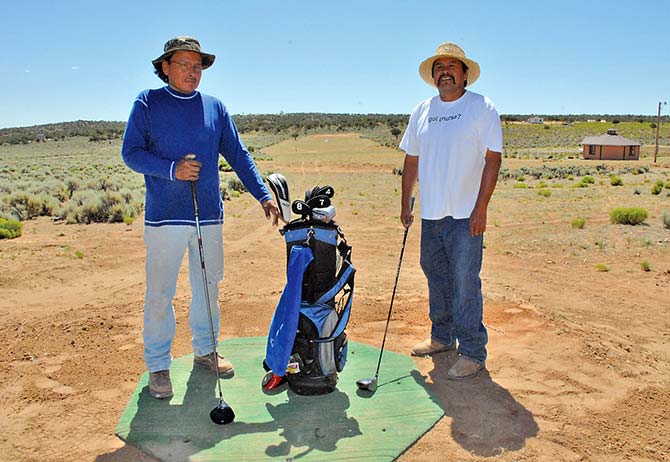 (Times photo - Paul Natonabah)
By Manuel Jesus
Special to the Times
STEAMBOAT, Ariz., July 8, 2010
T
he newly designed Wagon Trail to Lonesome Pine Golf Course near here is now open.
Located along Highway 264 and nine miles west of Burnside Junction, Freddie Yazzie, who co-founded the course with two cousins, says the course will host its first tournament this weekend.
"We're not into money-making business," he said. "We just want people to come out and to hit balls and enjoy rounds of golf. Just to have fun."
"Right now we're upgrading the golf course with all the holes and we're mainly concentrating on the greens," Donald Benally said, one of Yazzie's cousins and designer of the course. "We're going to level the whole thing and make it playable.
"The 50-yards, 100-yards and the 200-yard markers, everything will be indicated, like a regular golf course," Benally said. "The tee boxes will have small stones engraved with yardage distances and things like that. It's going to be something."
"Here the measurements are all accurate," Yazzie said of each hole, "which are in the confines of other golf courses. We used the Sky Caddy, which is used to measure distances at other golf courses and we used that to measure out the distances on this course."
According to Benally, the course began with one hole in 2001.
The trio decided to add other holes and the course began to take shape.
"We actually started out with one hole, then added three holes five years ago, then it grew and we added two more two years later," Donald said. "Last month, my brother (Joe) added three more to make it nine holes.
"Me and Fred and my brother go back a long ways," Donald said. "We started off on a small hill about 200 yards away. At an old abandoned sheep corral and when the sheep moved, that's how we got started and we were at it for three years there. Then we just continued to add, but after making three more holes, everybody got into it."
The three made trips to play golf at Holbrook, Snowflake and Gallup.
"We wanted to practice and just hitting balls and going through the courses in Holbrook and Gallup, it took a lot of gas, paying cart fees and that's why we got involved with this golf course," Benally said.
advertisements
---
"They're not going to pay $20 a day to play a round," Yazzie said of other golfers. "They could come out and play here. There's people from Pinon that come out and play. There's a couple of people that stop by and check it out and they have a lot of questions about it."
"There no golf course anywhere on the reservation," Donald said, "but the people that we know that play rez golf, they build their own golf courses, like the one in Pinon, they have a 18-hole course. It's real neat how they have one. Maybe this one will open eyes."
Hoping to attract people to their course, Yazzie also mentioned that it can benefit youngsters. He said that golf could be looked at as any other sport on the reservation.
"You know in basketball, baseball, football all those sports, kids started on dirt, in back of their hogans, wherever there's dirt," he said, "that's where they got to be good, where they got to learn the basics. With this, it's the same idea. You can come here and teach your kids."
For the tournament this Saturday, the game will be modified from U.S. Golf Association rules and regulations.
"Forget the greens, welcome to rez style golf," Donald said. "Meaning there's going to be sagebrush right and sagebrush left. If you hit the ball into the sagebrushes, you can play from there as it lies, or we can move it one club length to make it a point where you can hit the ball in a clear view of the greens.
Depending on the number of participants, the format is set for two-man teams.
"This is the first annual and its kind of up in the air as to how it's going to go, but if it goes good, maybe next year we'll have more activities, maybe a golf clinic," Yazzie said. "This is for the people that want to have fun."
The 1st Annual 2 Man Team Better Ball Golf Tournament is Saturday with a $20 per player entry fee. Prizes include $200 for first place, $150 for second place and $100 for third place. Registration is at 8 a.m. with an orientation and the tournament starts at 9:30 a.m.
Information: Freddie Yazzie, 928-675-1733, Joe Benally, 928-550-3390, Donald Benally, 505-809-8760 or 928-863-5402.