Politics
Former school board prez throws hat in ring
By Krista Allen
Western Agency Bureau
LECHEE, Ariz., May 8, 2014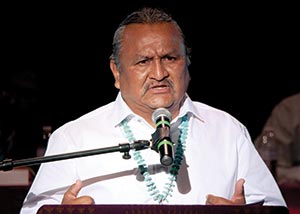 advertisement
F
or six of his nine years in office, he was the Page Unified School District governing board president. During his tenure, he was appointed a Federal Relations Network member by the Arizona School Boards Association and he was the head of the National Caucus of American Indian-Alaskan Native Board of Directors. He also took part in improving the 2001 No Child Left Behind Act.
Can he save the schools on the Navajo Nation or lead Diné Bikéyah?
Dale Edison Tsosie grew up, together with his siblings, in Salina Springs, Ariz., where he enjoyed the simplicity and routine of his life as a shepherd.
"We grew up with no vehicle, only the wagon and the horses," said the 55-year-old who attended a number of schools in Chinle.
Tsosie also attended Page High for some time before making a getaway to Southwest Indian School in Peoria, Ariz. where he met his wife, Charlotte. After more than a year at what is now Southwest Indian Ministries Center, he came back and graduated from Page High.
Because life after high school wasn't easy, he had to make a decision to go to college, join the Air Force, or go to work.
"It was either go to school for a long time, or get a job," said Tsosie.
And that's what he chose: To go to work and start on a new career path as an apprentice at the Navajo Generating Station.
Tsosie went to work on Oct. 24, 1978, and that weekend he married Charlotte. After losing their trailer to a fire, the young couple moved here where they've been living in house originally built for workers at NGS.
For most of his life, he's been a churchman, ministering to the Diné people. He's helped build churches for the Swinomish Indians in Washington, the Lac Courte Oreilles in Wisconsin, and for the folks in Yáá'iitiin, near Ts'ah Bii Kin.
"Locally, we bring different people … we find people that have needs and just help them out," said the father of three adult children. Tsosie's membership in the Faith Bible Church has taken him across the seas several times to southeastern Australia for cultural exchange.
Dale Tsosie readily acknowledges that his perspective is a reflection of his upbringing, training, the virtues and principles in which he believes.
Four years ago, he ran for president of the Navajo Nation. It was two weeks before the primary elections and his campaign wanted to go on the hustings in New Mexico.
"We had everything ready to go," said Tsosie.
Because of a death in his family, he relinquished activities of his election campaign. "We lost our five-month-old granddaughter. I was so hurt by it and nothing else mattered, not even the campaign. I didn't even want to go on anymore. My mom told me, 'Your ideas are very good. People need to hear it. You need to go back. I understand your pain, but your people also need to hear this.'" Now, Tsosie is ready. He's ready to run again for Diné Bikéyah's top leadership.
Dale Tsosie announced to the chapter his candidacy for presidency on May 2. Thus far, his campaign, what he calls a "low-budget campaign," has raised $5,000 and has already spent money on the application fee, literature pieces, and traveling.
"We toured the Western (part of the Navajo Nation). We're going to New Mexico because there's a lot of people there and we really need to introduce ourselves so people will get to know what we're about."
Tsosie would say that it doesn't take an Einstein to see that the schools on Navajo land are failing. And he says he knows how to fix Navajo Nation's schools.
"I saw the condition of education here, upon our Native students," said Tsosie, who has experience in the immense responsibilities that are shouldered by school boards. "I saw some statistics that really shocked me. Our children are the key to our future."
He has a plan to make it happen.
According to statistics, the U.S. spends more per pupil than most developed nations. It is, however, behind in math and science. Young people today are even less likely than their parents were to finish high school.
Tsosie says the reason for that is children get bored.
"They get disinterested. We see a lot of parents interested in their child's education at the elementary level, but after the third and fourth grades, interest becomes less (for) the child is disinterested. My plan to fix this is to make sure every child comes out on grade level by third grade."
He is proposing to attract and retain high-quality teachers.
"This is the key. If we don't do this, we're continually going to throw money at the situation. That is what's going to bring us out of poverty and all the conditions that we have. We'll have more children going to college, and more children graduating (as well as) more children coming back to the (Navajo Nation)."
Tsosie's other plans include fiscal responsibility, public safety, and bringing harmony to the Navajo Nation government.
But, might this be a long shot for him? Sure, he knows there's tough competition, but he says he has new ideas that have not been tried.
Although his political résumé isn't much of a curriculum vitae, he says he's ready to lead the Navajo Nation.
"When people see that you don't have a lot of political background, they kind of shy away from you," said Tsosie. "If people want the same old thing, they'll go back with the same people."
Dale E. Tsosie was born on March 15, 1959 to the late Susie H. Lee from Salina Springs. He also acknowledges his late stepfather, Jack Lee.
Tsosie is Naaneesht'ézhi Táchii'nii (The Charcoal Streaked Division of the Red Running Into the Water Clan), and born for Tódích'íi'nii (Bitter Water Clan). His maternal grandfather is Kinyaa'áanii (The Towering House Clan) and his paternal grandfather is Honágháahnii (One-walks-around Clan).
How to get The Times: