Politics
Whitethorne wants to show people they are important
By Terry Bowman
Navajo Times
SHIPROCK, June 26, 2014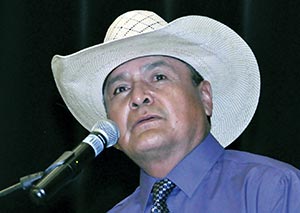 advertisement
H
ank Whitethorne, a welder and artist, wants to put his skills to the test because he dreams of welding the Navajo Nation government and people together while running for president.
"I want them (Navajo people) to know that they're important to this nation," said Whitethorne in an interview with the Navajo Times Tuesday evening at the Tuba City Presidential Forum. "We need to use that resource to build up the Navajo Nation."
Coming off strong from his debut as a candidate during the 2014 Navajo Nation Presidential Forum held at Grey Hills Academy High School on Monday, the Shonto, Ariz. native said his main concern starts off at home where some people have no running water or transportation to the nearest clinics.
"The main thing is to take care of the Navajos who are confronted by the everyday issues of hauling water and not having enough resources for our people and their families," Whitethorne said. "We need to establish those resources now."
Whitethorne currently serves as a welder for Peabody Western Coal Co. Whitethorne said through his experience with Peabody he has ideas of building new water attachments on the reservation that include dams, cities, airports and roads built with Navajo money.
But in order to start building new things on the Navajo Nation, Whitethorne said that the Navajo Nation Council needs to stop looking to the federal government for help.
"When we look to the government, that's when we sign and waive away our sovereignty," Whitethorne said, adding that the settlements made by the federal government allowed the Navajo Nation to build the Twin Arrows Navajo Casino and Resort.
"That casino (money) could have at least taken care of us. It's Navajo money," Whitethorne said.
After studying world cultures and sociology at Navajo Community College, today known as Diné College, Whitethorne said that his first task if elected president would be to clean house within the Council.
With his educational background Whitethorne said he's familiar with various world governments. This knowledge laid the foundation for his ideas of bringing change to the Navajo government and power back to the Navajo people.
According to Whitethorne, preliminary authority from the federal government has to stop and the Navajo Nation should be responsible for all of its policies in order to make changes suitable for the people.
Whitethorne believes some of these changes would be to evaluate and consider Navajo people as a valuable resource, combat the rate of resources used off the reservation and cut resources that costs the Navajo Nation millions of dollars a year.
"If we need to do environmental policy, we can do that ourselves and impose policies on ourselves," he added, explaining that this change will be effective for Navajo people to start making policies that will better suit the Navajo Nation resources.
"Make everything in Navajo," Whitethorne said, because he would like to see more of the Navajo language used in all aspects of today's world.
Whitethorne grew up in Shonto but attended school in Tuba City. He is also a renowned Navajo silversmith with a specialty in inlay designs. He is Lok'aa' dine'e (Reed Clan), born for Hashk'aa hadzohi (Yucca Fruit Strung-Out-In-A-Line Clan).
How to get The Times: