ASU women learn love of hoops runs deep on 'rez'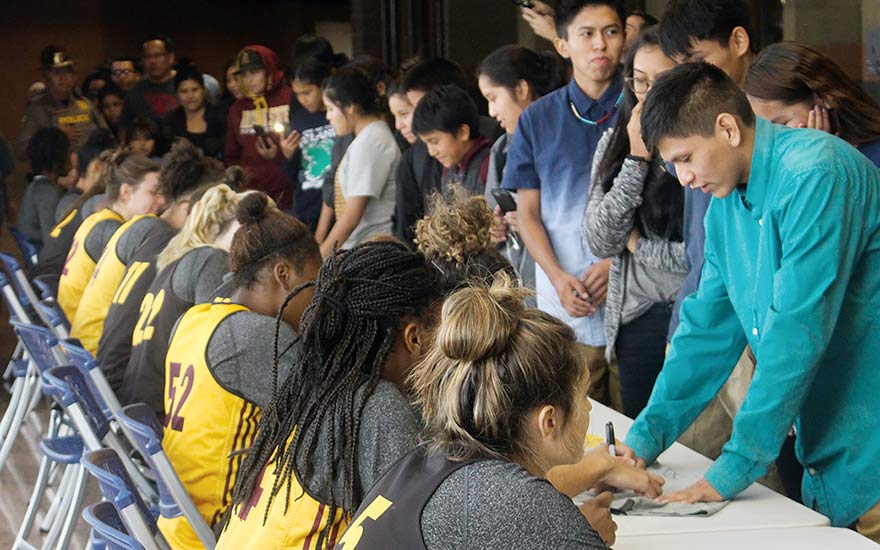 By Sam Ficarro
Cronkite News
FORT DEFIANCE
For many on the Navajo Reservation, basketball means everything.
The houses in this small northeast Arizona community on the New Mexico border feature a diversity of basketball hoops. White. Black. Gray. Some have rims with no net, others have rims with only part of a net hanging from them. Many are attached above garages, like anywhere else in the country.
Some simply protrude from the top of a black metal bar. All are well worn. They are symbols of hope for the Navajo people. "I was told if there's a basketball hoop, you can just basically play anywhere, and that's how it is on the rez," said Payton Charley, a junior on the girls' team at Window Rock High.
"There's dirt, they still play. If it's like really muddy, and it's uneven, they still play. We just have so much love for the game here." The Arizona State women's basketball team saw that firsthand when the team traveled to Fort Defiance Nov. 10 and 11 to play a game on the Navajo Reservation against Baylor. The goal was to honor Native American culture and recognize the tribe's Vietnam veterans.
---