Climate change video combines science, elders' views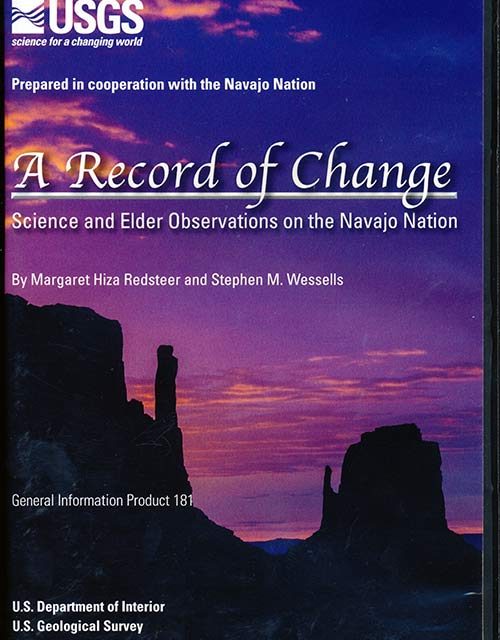 CHINLE
Climate change is a pretty much undisputed worldwide phenomenon. And like most changes in the world, it disproportionately impacts the poor, including indigenous populations.
But little research has been done on tribal lands, partly because even today weather data collection is sketchy at best and many reservations did not even start collecting climate data until recently.
What the Navajo Nation has that many areas don't have is a population of elders who have spent their lives in one place and, because they are farmers and ranchers, have closely observed the changes in the natural world.
In a recently released video from the U.S. Geologic Survey, Crow geologist Margaret Hiza Redsteer and filmmaker Stephen Wessells weave together a shocking picture of climate change on the Navajo Nation, combining Redsteer's recent research on sand dune movement with the recollections of Navajo elders ages 62 to 87.
"A Record of Change: Science and Elder Observations on the Navajo Nation" also brings in the reflections of medicine men, a grazing official and other experts, who say the warming, drying climate on the Nation is not only taking its toll on the health of people and animals but on the culture itself.
For instance, a medicine man points out that the loss of certain ceremonial plants has translated to the loss of the ceremonies themselves, and a Hubbell Trading Post employee talks about weavers having to travel farther for their dye plants.
Redsteer, who is married to a Navajo relocatee from Tolani Lake, Arizona, said she first started collecting interviews with Diné elders in 2002, with the help of anthropologist team Harris Francis and Klara Kelley.
Watch the Video
"Understanding how all of it came together – the snowfall, the stream flow, the farming, the culture — didn't really come across to me until I read the interviews," she said. "For instance, the elders' observations of soil moisture — you can't get that from the meteorological record."
The elders' recollections, Redsteer says in the video, correlate amazingly well to the sparse data already available. For instance, most of the elders say the climate took a turn for the warmer and drier starting in the mid-1940s. Records for northern Arizona show 1944 was the watershed year, the video says. "I was surprised at how accurate and specific the elders' observations were," Redsteer said.
---