'Looking for the very best'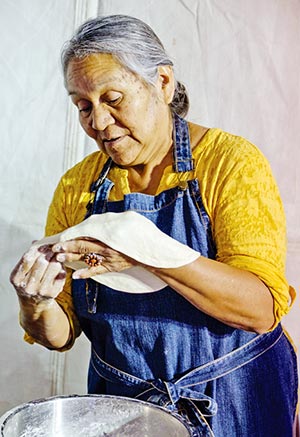 Farmington public library holds first frybread cook-off
FARMINGTON, N.M.
The unmistakable aroma of frying dough wafted through the air Friday at the Farmington Public Library.
In booths set up in the parking lot, six contestants armed with flour, lard, baking powder and water battled for the enviable title of best frybread maker. The library's second-annual frybread cook-off drew seasoned and novice cooks from a 150-mile radius and pitted them against in each in a battle that proved, ultimately, that not all frybread is created equally.
Competition was fierce, and the stakes were high. Under scrutiny from a crowd of more than 100 onlookers and a panel of six judges, rolled, stretched and fried dough in pans of sizzling oil. Each cook knew that only one champion would emerge to seize the $100 grand prize – and a reputation that goes far in this community.
"We're a community that loves frybread," said Better Decker, adult service librarian and organizer of the event. "We're looking for the very best."
Judges selected a winner based on the frybread's taste, appearance and texture. They looked for that perfect piece – a golden-brown morsel that tickled the taste buds even without the added frills of honey or powdered sugar. A cook could go home empty-handed if the frybread was too brown, chewy or unsavory.
"What is it that makes good frybread? I still don't know," said Travis Holt Hamilton, one of the judges and director of the 2012 mockumentary "More than Frybread."
"Everyone who makes frybread has a story about it," he said. "Everyone seems to have a secret recipe."
---