Air Force ensemble to land in rez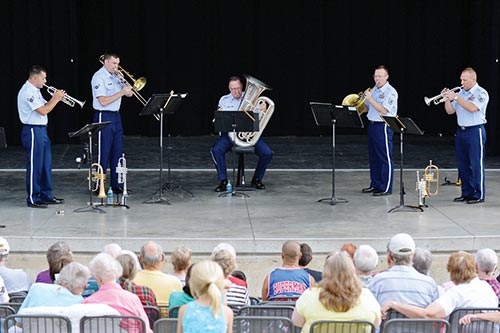 CHINLE
Since ancient times, armies have employed musicians to get the troops fired up for battle, awaken them in the morning, cheer them up in camp and lend a sense of occasion to promotions and other ceremonies.
The tradition persists in the U.S. Armed Forces today, with talented soldiers, sailors, Marines and airmen who make the cut assigned the enviable duty of playing their instruments for both the military and the public.
The Navajo Nation will get a rare opportunity to hear one of these bands, the U.S. Air Force's Travis Brass, Monday, Oct. 26 in Chinle and Tuesday, Oct. 27 in Window Rock.
Not only that, the quintet will spend some time at both Chinle High School and Tuba City High School working with the young musicians in the schools' music programs.
"I am very excited for my students to have such a unique learning experience," said Chinle High music teacher Eric Swanson. "To have individual instruction and to perform with the Travis Brass should be a lifetime memory for them."
On the band's side, "The members of Travis Brass are extremely excited to be able to come to the Navajo Nation and work with and play for students in Chinle and Tuba City,"
said TSgt. Scott Wise, the band's staff composer and non-commissioned officer in charge of the group. "Educational outreach is one of the cornerstones of the group's mission and the group is particularly pleased to have the opportunity to make our first-ever trip to the Navajo Nation and have the chance to meet and interact with the community."
---