For Diné metal fans, music is 'life': Pantera and Lamb of God annihilate with power metal classics at Isleta Amphitheater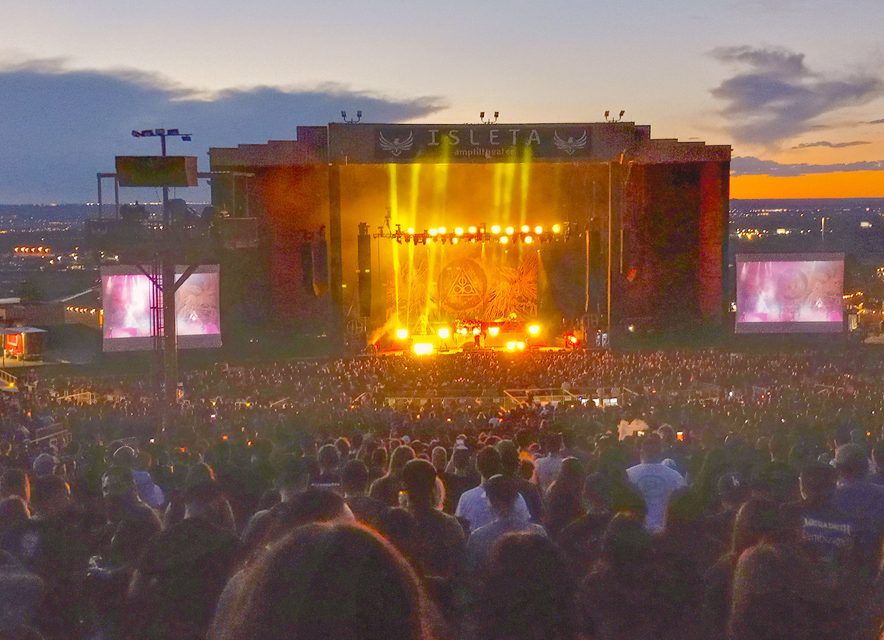 ALBUQUERQUE – For the fans. For the brothers. For legacy.
Pantera, the notorious "Cowboys From Hell," annihilated Albuquerque's Isleta Amphitheater on Aug. 31 with face-pummeling, fist-pumping power metal, and the opening act, Lamb of God.
Pantera opened with "Regular People," accompanied by a video montage of Dimebag and Vinnie interacting during candid moments captured at home and on the road.
The video was projected on the giant screens on either side of the stage at Isleta Amphitheater, eliciting emotions and memories from the crowd.
Pantera's 2023 North American 35-city tour launched May 20 in Daytona, Florida, and will end Nov. 10 in Detroit, Michigan. It's the band's first major tour in 22 years. The band also supports Metallica's current M72 World Tour 2023 dates as the opening act.
Power metal band
Despite the new lineup for the band, the strength and power of the music style resonated throughout the band's hourlong set, as evidenced by the singing crowd, screaming women, careening mosh pits, and weeping fans.
Vocalist Philip Anselmo was joined by Rex Brown (bass), Zakk Wylde (guitar), and Charlie Benante (drums) for Pantera's current incarnation. Anselmo and Brown were the only returning members from the previous lineup from 20 years ago that featured the Abbott brothers.
Pantera was formed in Arlington, Texas, in 1981 by brothers Dimebag Darrell Abbott (guitar) and Vinnie Paul Abbott (drums). The original lineup also featured Terry Glaze (rhythm guitar), Donny Hart (vocals), and Tommy Bradford (bass). Hart eventually left the band and was replaced by Glaze on vocals.
The early years of the band were decidedly glam metal. Then, in 1986, it recruited Anselmo as the lead singer, forever changing its musical sound and trajectory as a power metal band. Anselmo replaced Glaze as lead vocalist.
The band's discography includes nine albums, but it was the albums "Cowboys From Hell," "Vulgar Display of Power," "Far Beyond Driven," and "The Great Southern Trendkill" that solidified Pantera's cult-like following among its legion of fans.
Read the full story in the Sept. 7 edition of the Navajo Times.
---