Youth learn to play, tune guitars at music workshop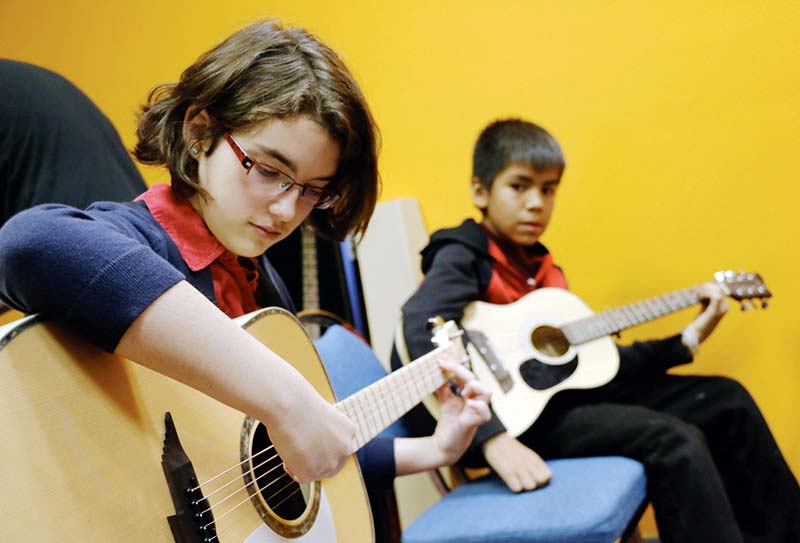 WINDOW ROCK
Sounds from beginning guitar players clashed with those of the more experienced during the Native American Music Fund Teens for Music workshop at the Navajo Nation Museum on Saturday.
The program brought in about 20 kids, each with a different level of guitar and keyboard experience.
"What we want to do is put instruments into the kids' hands," said Mechelle Morgan Flowers, a nurse at Tsehootsooi Medical Center.
Her son, Peter Flowers, a student at St. Michael Indian School, said he got the idea when his younger sister wanted to raise money to fund a music program at St. Michael Indian School.
However when that didn't work out, Peter said he didn't want to give up. So he and a classmate, Malik Scott, formed a junior council to get music workshops funded.
The junior council applied for grants and received $3,500 from the National Relief Charities, an organization that works with tribal communities and youth led projects.
"Our focus is to work with tribal partners who are doing positive things in the community," said Rafael Tapia, program manager for long-term solutions at National Relief Charities.
The idea of the workshop is to give everyone on the reservation a chance to learn to play an instrument, Scott said.
The workshop was one of four the museum will host. The workshops will take place on the following Saturdays, March 7, March 21 and April 18. For more information call 928-729-8024.
---