Our children must survive before they can thrive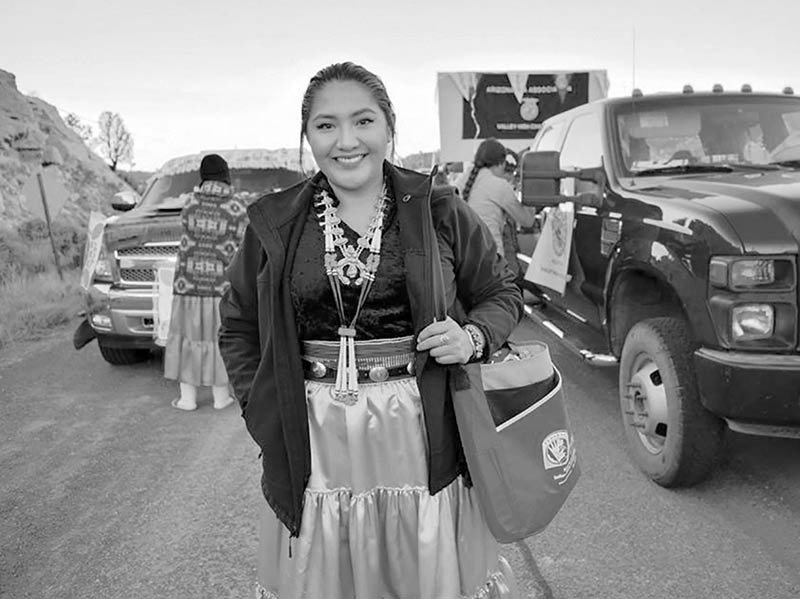 Over the past seven months, as an intern and eventually a staff reporter for the Navajo Times, I have reported on the well-being of women and children in our Nation.
This is not a new field of reporting for me. Even as a cub reporter, I always centered on our young people and their families.
This interest came from my time as a journalism fellow for a nonprofit called Generation Justice located in Albuquerque. The organization I called home for nearly four years was dedicated to reporting on social justice issues, centering on families of color and literally passing the mic to those most impacted by an issue.
Every year, GJ and I waited for the New Mexico Kids Count Report and every year we were disappointed to see our New Mexican youth at the top for poverty and food insecurity, and the bottom in education and overall well-being.
This year, my state was even dubbed the worst place to raise a child. The statistics on the well-being of New Mexican children are awful, and for Native American children in our state, it's even worse.
According to New Mexico Kids Count, 33 percent of Native families are living in poverty — the highest rate in the state. This means one in three Native American families in the state of New Mexico live at or below the poverty line.
The poverty line is determined by income and family size. For example, a family of four making at or below $24,600 would be living in poverty. This translates to a family of four living off $2,000 a month or less.
Since 2008, New Mexico has seen an 18 percent increase in children living in poverty.
In Native families, 55 percent of children lived in families where no parent had a full-time job during the year, according to the report – more than half!
This financial insecurity within families leads to fewer opportunities for young people as well as a "variety of health, cognitive, and emotional risk factors for children."
Children who grow up in poverty are also "more likely to be food insecure, to suffer from adverse childhood experiences like abuse and homelessness, and to live in poverty as adults," according to the 2016 New Mexico Kids Count report.
Poverty drastically affects the well-being of a family.
As a Native American blessed to grow up in a middle-class, two-parent household, I know how a financially stable environment can foster leadership, fearlessness, achievement and a dedication to helping our Nation flourish.
I was eight years old when I started picking out colleges I wanted to go to. I was 13 when I decided I wanted to get my doctorate degree. I was 18 when I made the decision, with the support of my parents, to pursue a career in journalism, which I didn't think I'd be able to do.
Now, at 24, I get to do what I love every day and help my community.
All of the goals I set, as a child and young adult, were possible because I wasn't worried about whether or not I was going to eat dinner, where I was going to live or violence in the home.
Intimate partner violence continues to be a big issue for Navajo families as it is for Native communities in general. A National Institute of Justice study found that nearly half of Native American women reported violence in the home.
According to the Navajo Nation Human Rights Commission, Navajo women, compared to others, are victims of "domestic violence and sexual assaults at a greater frequency and intensity."
This creates a toxic environment of trauma and stress for children, which can be deadly for newborns.
One study, "Lifetime and Current Abuse, Pregnancy Risks, and Outcomes Among Native American Women," found that Native babies born into a household with domestic violence have decreased birth weight and inadequate prenatal care.
Another study found that babies with a low birth weight were more likely to die from sudden infant death syndrome. In the state of Arizona, Native American babies are disproportionately represented in the percentage of sudden unexplained infant deaths.
These issues that affect the health of families are systemic. They come from hundreds of years of federal policies that disrupted our way of life as Diné.
If our nation is committed to creating a better future for our young people, it has to start at the home. Pushing our young people to pursue a higher education isn't going to fix the problems of our Nation.
Navajo families can't thrive when all they're trying to do is survive.
We must build families that are happy and healthy. We have to create a strong foundation for our young people before we can ask them to go to college, to be leaders, to be a voice.
I know you can't succeed on your own. I couldn't. You need a network of people to believe in you and support you. I had my family every step of the way and every accomplishment I had was a reflection of their work.
So, as a Nation, we must focus on the well-being of our families and start there.