'Because we love it'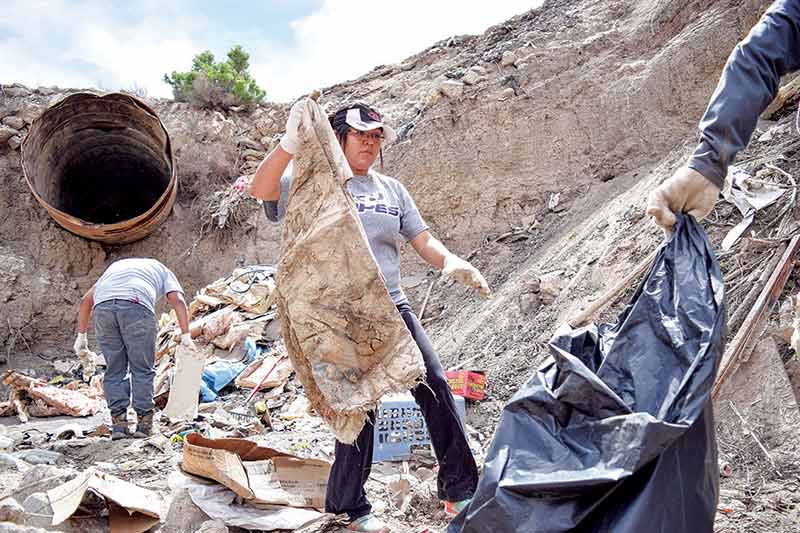 Youth minister and volunteers cleaning up illegal dumpsites
KAYENTA
Old washing machines, vacuum cleaners and old TVs. Grease, roof shingles, and carcasses. Ash, fiberglass, and bottles.
All these items and more are routinely and illegally dumped at one of 20 illegal dumping sites, all located northeast and southeast of the community.
"There's all kinds of stuff down there, but people don't see it," said Alex Gilmore, a youth minister, who is more or less the new boss overseeing illegal dumps.
Gilmore and a handful of volunteers have been cleaning up illegal dumpsites for about a month. Thus far, Gilmore and his team of mostly teenagers have reclaimed 13 of the 20 illegal dumpsites.
In the Navajo Nation, it is against the law to dispose of waste in a manner that "will harm the environment, endanger the public health" and it is against the law to dispose of waste anywhere but solid waste facilities, according to the Navajo Nation Solid Waste Act.
Illegal dumping, however, is one of the biggest and oldest problems in Diné Bikéyah. The Navajo Environmental Protection Agency website states that "there is always a dump site," whether in a tourist area or near a residence.
Navajo EPA reports that its Criminal Enforcement Department officers have investigated hundreds of dumpsites and have found that "there are small sites … and there are large sites."
If anyone is caught illegally dumping waste within the Navajo Nation, they are subject to fines and penalties such as being required to clean up a site, picking up trash alongside the roadways, among others.
"It's laziness," said Keola Yazzie, an 18-year-old senior at Monument Valley High School, who balances volunteer work with school. "Some people are too lazy, basically. They don't want to pay for disposal.
"They see another route," Yazzie continued, "and think, 'Oh, no one drives through here so I'm just going to dump it here because it looks like someone else did it and I can do it too.'"
Yazzie, along with a small number of volunteers, recently helped Gilmore clean up a massive illegal dumpsite that they call "The Beast's Lair" because of its size.
The Beast's Lair is located in a drainage basin where water collects and drains off into Laguña Creek. Volunteers say the working environment in The Beast's Lair is harsh.
"There's a smell," explained Devin Henry, a 17-year-old junior at MVHS. "A rotting smell of dead animals. There's chemicals, especially insulation fumes, in the air. Other than that, everything's good."
---