Celebration time! Federal, tribal leaders gather to celebrate Dilkon Medical Center grand opening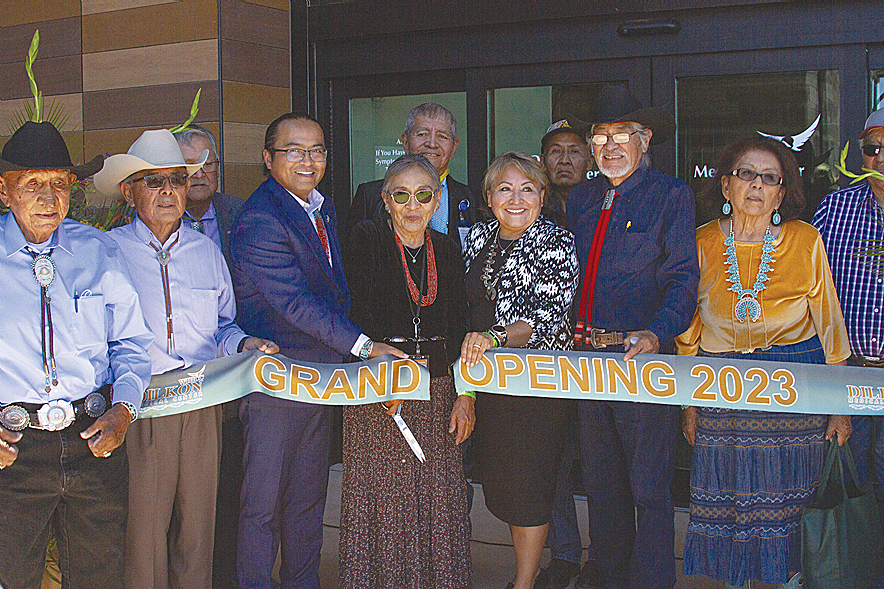 DILKON – The Dilkon Medical Center celebrated the facility's official grand opening on Aug. 4 with guest speakers, free lunch, a live remote KTNN radio broadcast, and the traditional ribbon-cutting ceremony.
The $80 million facility is a modern 162,000-square-foot building and will provide ambulatory care and inpatient medical services. The new facility replaces a 92-year-old health care facility in Winslow, the oldest hospital in the Indian Health Services inventory.
The new DMC will include 12-bed inpatient care, primary care, dental clinic, laboratory, physical therapy, ancillary support services, Level III emergency-trauma center, eye care, diagnostic imaging, pharmacy, behavioral health, and a full-service cafeteria.
The facility features concrete masonry units, stone, rammed earth, and large windows on both building floors for clear community views.
Also included in the project was a 109-unit medical staff quarters and maintenance building, which was completed for $48 million.
The project includes one- to four-bedroom housing units, a 4,000 square feet maintenance facility, and site improvements such as roads and sidewalks.
The project also included a new water tower providing service to the facilities, sewage system, and sewer lagoon located five miles west of the site.
Read the full story in the Aug. 17 edition of the Navajo Times.
---