Erin Toadlena-Pablo is Gallup's new police chief: First Diné woman leading Na'nízhoozhí police department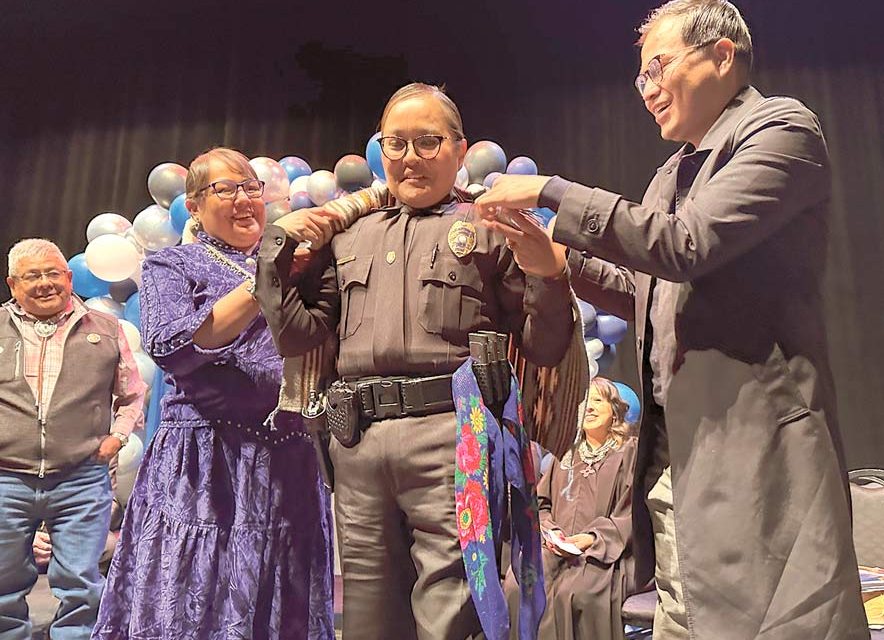 GALLUP
It was a historic day. Gallup has a new police chief.
Gallup Police Chief Erin Toadlena-Pablo, 43, became the first Diné woman to lead the city's police force at a critical moment.
Toadlena-Pablo is Naakaii Dine'é and born for Tódích'íi'nii. Her maternal grandfather is Dibé Łizhiní, and her paternal grandfather is Kinyaa'áanii. She was born in Sawmill, Arizona.
El Morro Theatre in downtown Gallup was filled with her family and colleagues, Gallup and tribal officials to witness the swearing-in of a new chief.
Experience and emotional intelligence
Toadlena-Pablo began her law enforcement career nearly 22 years ago. As a rookie officer, she quickly began making her tenacity and perseverance known.
She has served many posts gaining necessary experience throughout her two decades of serving the Gallup community. Her duties have spanned a variety of departments, such as investigations, internal affairs, bike patrol, emergency response, and, most recently, captain. She also balanced family life, getting married and raising six children.
Read the full story in the May 4 edition of the Navajo Times.
---