Navajo Prep outlasts Crownpoint, clinches district title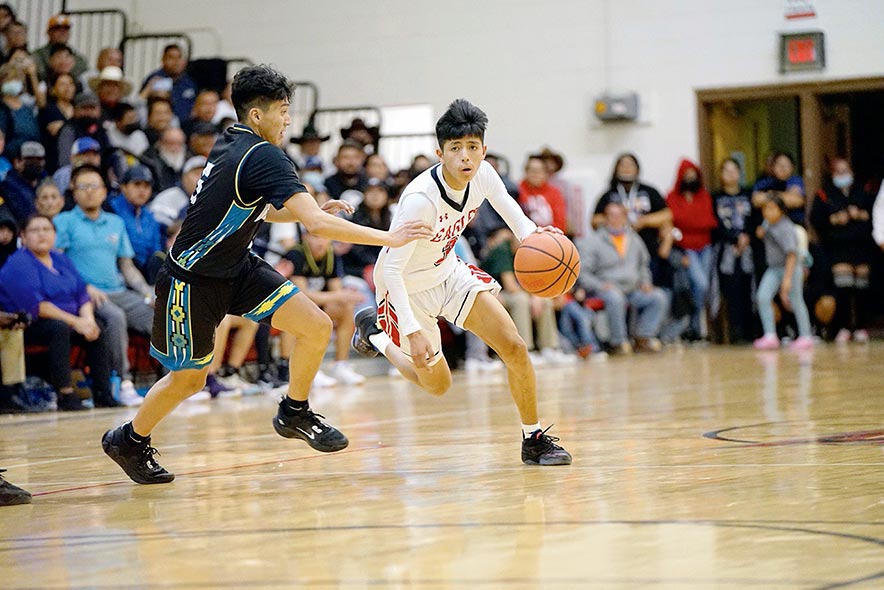 CROWNPOINT
The routine plays the Navajo Prep boys basketball team made were crucial during Monday night's district game with Crownpoint.
The visiting Eagles played without their head coach for a good part of the contest as Navajo Prep won the regular season league crown in District 1-3A with a 48-42 win before a packed crowd.
Navajo Prep used a 10-4 run with six minutes left to outlast the host Eagles.
"If you're trying to make a late season push you got to go through some adversity and get tested," said Navajo Prep coach Matt Melvin, whose team improved to 22-2 overall and 11-0 in district play.
"Hats off to Crownpoint," he said. "I thought they played a heck of a game. They did a great job. I mean, they made a lot of tough shots. They went to the rim and they played good defense."
With 2:01 left in the third period, Melvin received back-to-back technical fouls as he was ejected. He waited in the locker room until the game ended to meet with this reporter.
"I've never been through that before and I never want to do that again," Melvin said of his ejection. "That was miserable. I wasn't sure who went ahead, so I tried to listen to the crowd. In my mind, I didn't know if they were cheering on my side or their side.
"That was absolutely nerve racking," he said. "I got my fair share of 'Ts,' but not like that."
Melvin said he questioned a call, asking the official if there was a tip in what he thought was a backcourt violation on Crownpoint.
"All I asked was a simple question, and I got 'Teed up,'" he said. "I didn't yell and I wasn't on the floor and all I asked if there was a tip."
Crownpoint (19-6, 9-2 in district) hit 3-of-4 free throws off Melvin's technical fouls and regained a 33-31 advantage.
Behind a 3 from reserve Wallen Descheeny, 'Prep took a 34-33 advantage heading into the fourth. That trey capped an 11-6 scoring run in the third as the visiting Eagles erased a 27-23 halftime deficit.
With both teams playing deliberately, 'Prep started to pull away as they went after Crownpoint senior post Tyrell Archie, who scored his 1000th point in the opening quarter.
The visiting Eagles worked the ball inside to junior post Orion King as he got little resistant from Archie, who picked up three early fouls.
"With him in foul trouble he couldn't play as aggressive," Crownpoint coach Thale Goodluck said. "We already called that, with ('Prep) looking to go inside. That is the biggest thing that worked to their advantage, getting him into foul trouble."
King, who finished with 14 points, agreed that the complexion of the game favored his team late in the game with him posting up.
"They have some good players on their squad, but Archie is one of the main ones," King said. "Everyone on my team was telling me to go, go, go at him with his fouls. That is what we needed and we got the momentum back when I took those shots."
The visiting Eagles had only four players score, but Melvin used his bench extensively to rest his starters as Crownpoint went seven deep.
"We used a lot of guys," Melvin said. "We've been shuffling some guys in and out, and we pulled some JV guys up to give them an opportunity to show that they can go in for a couple of minutes here and there."
Descheeny was one of those players as he made a huge impact by finishing with seven points and two treys.
"We subbed him in the second quarter and that kid knocked down a 3," Melvin said. "Those things are huge and at the end of the day, wins are vital.
"I think we found enough things to do right late in the game to gives ourselves a win," he added.
The six-point win was a stark contrast to 'Prep 81-38 blowout win in the first meeting between the two squads on Jan. 24.
"The boys came out wanting to play," Goodluck said. "They showed what good things can happen with a lot of ball movement and team play."
With most of his starters playing nearly 30-plus minutes, the Crownpoint coach said he wanted them to slow the pace down to save their legs.
"I think that probably backfired on me because my boys like to run," he said of their stagnant play at the end Monday's contest.
"That is when the turnovers started to kick in," he said.
The hometown Eagles were paced by senior Taye Harvey as he finished with 17 points.
"We played way better defense than the last time," Harvey said. "We basically doubled-team Jude (Thomas) tonight and that really helped. With the pick-and-roll, we doubled on Orion in the post."
In the last game, Thomas scorched Crownpoint with 36 points while handing out seven assists.
Thomas was limited to a team-best 15 points on Monday while sophomore Xavier Nez added a dozen.
"We basically did whatever we needed to not let them score," Harvey said. "I'm really proud of my team. We all stepped up tonight and we defended really well."
---