Rez girl sees the lights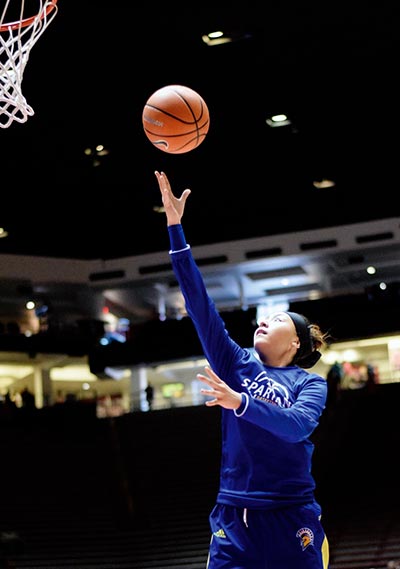 Ex-Shiprock resident becomes shooting guard for San Jose State
ALBUQUERQUE
Analyss Benally has waited to see her name in the lights at Dreamstyle Arena, aka the famous University of New Mexico "Pit."
On Saturday, the 19-year-old San Jose State University women's basketball player finally got what she wanted.
When it was her turn to be introduced to her home-state crowd, the announcer bellowed, "Sophomore, 5-8 guard, from Shiprock, New Mexico, Analyss Benally!"
Her fans sitting behind San Jose's bench erupted with cheers.
"I've been looking forward to this game specifically since last year," Analyss said. "Me and my dad always thought about this game. He said, 'Your family is going to come, your cousins,' so many people from my area.
"I thought that it's crazy that I'm going to be able to play in front of my own people," she said. "Half of the people probably didn't even know that I was coming.
"That will probably open their eyes a little bit to see that a little rez girl is playing from California," she added, "and UNM can see what they missed out on."
Benally was recruited by UNM when she was in high school but was told she would have to work her way up the system. The Spartans offered her a better deal — playing time.
Born and raised in Shiprock, Benally found herself in Park City, Kansas. Her older sister was given a college scholarship in Kansas so the family moved from the Four Corners area.
Benally immediately became a star player at Witchita-Heights High School and was soon recruited by Division I teams. Last season was her debut with San Jose State and it wasn't what she expected.
"My first season, I think, it was difficult for me," she said. "It wasn't what I expected at all. But eventually, as the season kept going on, I started being more comfortable.
"I started realizing this isn't going to be my year," Benally said. "I was definitely expecting more playing time. Then I got a concussion and got a broken nose that left me out for a few months. I think that mentally disturbed me."
Benally was placed on the injured list. She had shown up in San Jose with the intent of making an impact and earning her spot on the team, but it seemed as if the chance was slipping away.
She also started to miss her family. But Analyss rebounded after a few pep talks from her mother, Vikki Benally, and father, Brian Benally.
"I never spent more than four days away from my family," she said. "I moved here and they're 10 hours away. I didn't really know what to do sometimes, but I think my family really prepared me.
"My dad said, 'You're going to have to do this alone,'" Benally said. "He said, 'You can call us, but you're going to have to stay there and work it out.'
---