Roping title brings up bittersweet memory for Lowman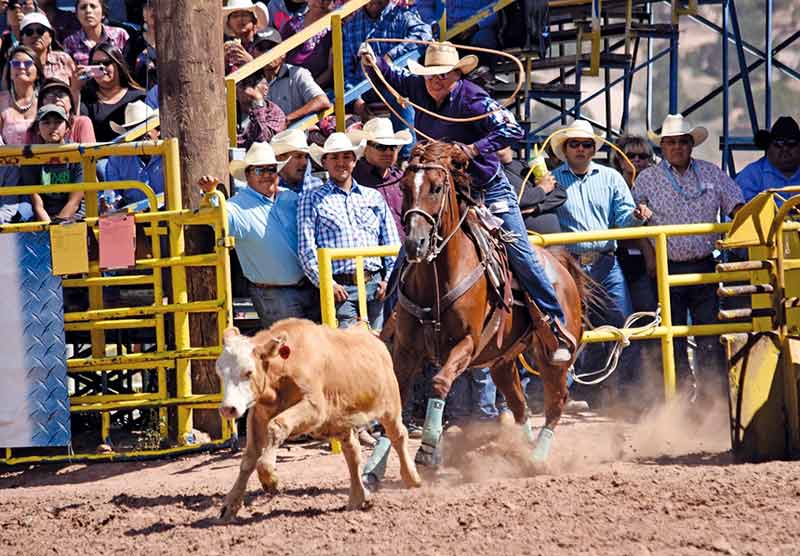 WINDOW ROCK
Her first Navajo Nation Fair title came in 2009.
With her father looking on, Danielle Lowman won the ladies' team roping with Debbie Robbins, another veteran in her own right.
"He was standing next to the exit gate, cheering with great excitement," Lowman said of her dad, Ernie Lowman, who has since passed away. "That was such a special day of mine."
Fast-forward nine years. Lowman celebrated another special day on Sunday afternoon as she captured the women's all-around title for the second consecutive year. Lowman won the ladies' team roping with Robbins again, this time with a run of 7.2 seconds.
She also placed second in the average race in the breakaway to walk away with the $5,000 all-around prize money, pushing her total haul to a whopping $9,403.25.
"It's the most amazing feeling in the world to have. I've had some good success here on the Navajo Nation, especially in the presence of my closest friends and family," Lowman said. "To come back and to live this moment year after year, it's just a true blessing."
In addition to placing with Robbins in the ladies' team roping, Lowman also took home a sixth-place check with heeling partner Serena Dahozy as the pair recorded a 12.3 run during the one-go-round event.
Lowman said the success she's had didn't come easy. She said she had to work hard and be disciplined, but more in importantly she always had a goal in mind.
"The work is always fun because I challenge myself to be a better roper every day," she said. "Aside from team roping, I have worked hard to get where I am at in the breakaway roping, learning how to get my timing right at the barrier and sneaking it on in one or two swings."
She did that in two of her breakaway runs during the weeklong event, as she was a bit long in the short round with the 4.4 run she turned in. As a result, Lowman finished second to Fruitland, New Mexico cowgirl Janine Tree in the average race.
With a quick throw of 2.8 seconds in the short round, Tree solidified her spot as the top breakaway roper at this year's fair. She recorded three runs in 8.0 seconds and finished in front of Lowman (10.6) and Kadin Jodie (11.7) for the elusive crown that evaded her for almost 15 years.
"I was leading it by almost two seconds going into the short round," Tree said. "My sister was there and she was like, 'Don't try to be fast, just make a catch,' but my calf was just right there and I took my chance."
Afterward, Tree said she let out a big sigh of relief as she thanked her horse, Moon Shine, for completing the mission.
"This was our first big win," Tree said. "I really haven't taken her anywhere. She worked awesome and she put me in the running all the time."
---