Nation welcomes UN official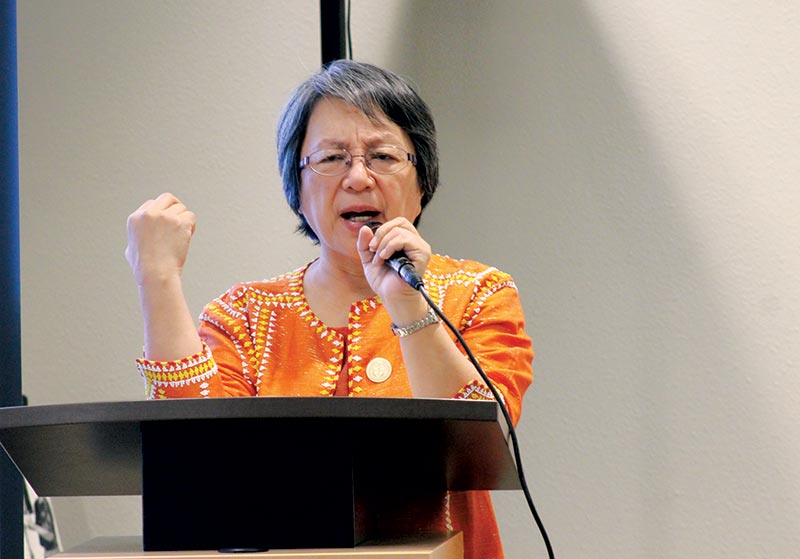 By Christopher S. Pineo
and Terry Bowman
Navajo Times
TSE BONITO
Water contamination and the health effects of uranium topped the list of concerns about resource extraction on the Navajo Nation as a representative of the United Nations listened Friday.
"The fear of contamination of our drinking water is once again reminding us that these types of mineral extraction hurts our people," said Vice President Jonathan Nez.
One speaker used a graph to show measurements of uranium in people's urine to show a specific example of how it hurts Navajo people.
Donald Benn and Ronnie Ben, both with the Navajo Environmental Protection Agency, spoke about environmental issues and impacts related to energy extraction activities and industries on the Navajo Nation. Benn explained that the Navajo Nation faces challenges getting extraction companies to follow Navajo Nation regulations.
Victoria Tauli-Corpuz, the U.N.'s special rapporteur on the rights of indigenous people, didn't just sit and listen to the presentations. She asked questions and interacted with speakers where she could.
Percy Deal, of Diné Citizens Against Ruining our Environment, gave history more specific to the focus of the rapporteur. He said prior energy extraction efforts have ended without cleanup efforts.
"We don't want that repeated by Peabody (Western Coal Co.) or (Navajo Generating Station)," he said. "We want our leadership to know that we're deeply concerned about that. Priority is we want our water back."
His last sentence drew applause from the gathered community representatives.
Other speakers included Shiprock Chapter President Duane "Chili" Yazzie; Virginia Edgewater, a representative of the Diné Medicine Men Association, Inc.; and Janene Yazzie of Little Colorado Watershed Chapters Association.
---