Challenge to Begaye's candidacy still at OHA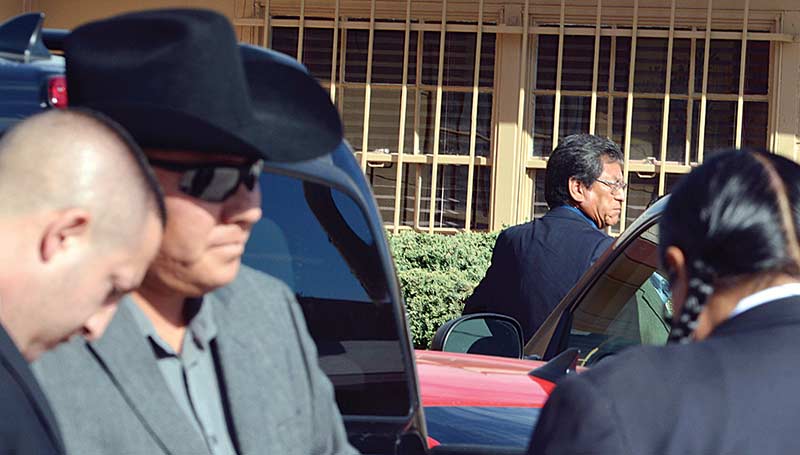 ABOVE: Navajo Nation presidential candidate Russell Begaye, background, and former candidate Myron McLaughlin, hat and sunglasses, wait outside the Office of Hearings and Appeals conference room during a recess break on Nov. 13 in Window Rock. (Times photo – Donovan Quintero)
---
WINDOW ROCK
The candidacy of Russell Begaye for president was still up in the air Wednesday after a two-day hearing before the Office of Hearings and Appeals.
Myron McLaughlin, one of the losing candidates in the August primary, had challenged Begaye's candidacy after he was moved up to face Joe Shirley Jr. in light of the disqualification of Chris Deschene for failure to meet Navajo language fluency requirements.
The OHA was supposed to have issued its decision on Wednesday but officials there said on Wednesday that both hearing officers were not expected to be back until Friday so that was the earliest date a decision would be rendered.
The grievance filed by McLaughlin centers around Begaye's involvement as a Council shareholder in the Navajo Oil and Gas Company, which has been involved in a dispute for the past several months over whether the shareholders had the right to remove or suspend the five-member board of directors.