Byron and Pauline Tsingine inducted into Flagstaff Sports Hall of Fame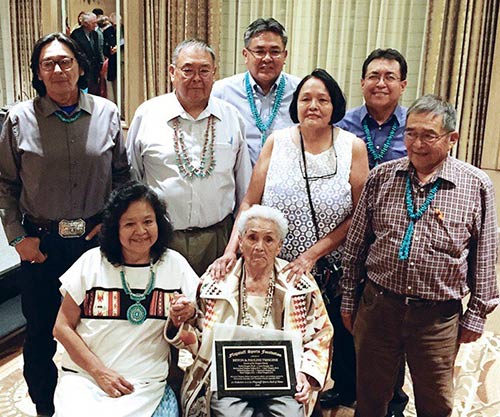 FORT DEFIANCE
Pauline Tsingine and the late Byron Tsingine were recently inducted into the Flagstaff Sports Foundation 2016 Hall of Fame during a banquet at Little America in Flagstaff.
Last year, their son Ray Tsingine and Coconino Panthers state basketball champions were inducted into the hall of fame.
A plaque with Byron and Pauline Tsingine's name and their childrens' names and notation of their college degrees was presented to the family.
Family spokesman Glenn Tsingine said family members were surprised and very pleased to hear of the news.
"My father and our family have a long and fond history of attending Northern Arizona University and living and growing up in Flagstaff, which continues to this day with their grandchildren and great grandchildren," Glenn said. "It means a lot to the family and my parents. Being that this formal recognition from the city of Flagstaff acknowledging and honoring my parents' contribution, along with their children is gratifying and in some sense, validating of the many positive achievements a local native family has made to the city of Flagstaff and to the state of Arizona."
Glenn said his father, while attending NAU, played and became lifelong friends with many other notable people that later achieved great things for Flagstaff and the state of Arizona, in the areas of politics, sports and other segments of the regional area.
"Our parents supported all of us in sports, as well as achieving success in the educational realm, in securing degrees in our selected fields of study," Glenn said. "My late father was also a proud member of the Veterans Organization (American Legion)."
The Tsingine's were nominated by former Coconino and Flagstaff basketball coach Bill Epperson, Flagstaff attorney and Coconino County Judge Mike Flourney and former NAU men's basketball head coach John Birkett for the distinguished honor.
---