No sweat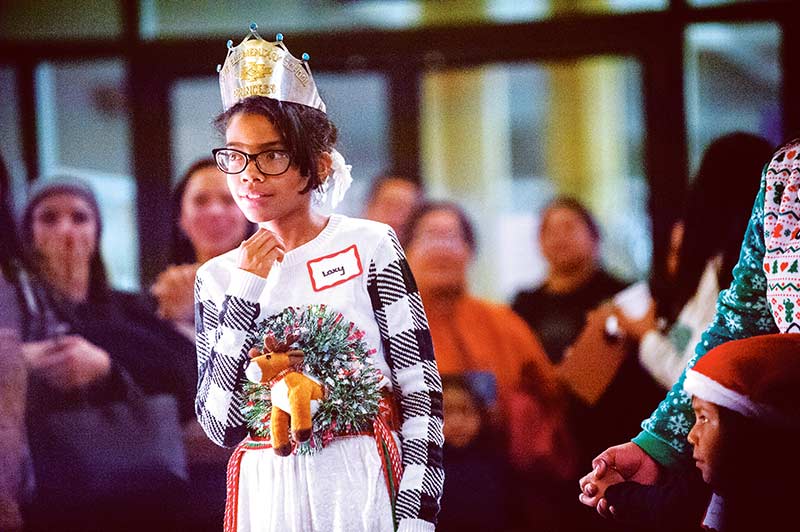 Princess rules with ugliest sweater
WINDOW ROCK
Laxy Campbell, 10, won the Wingate Elementary School Princess title, but there was another contest that she was just as determined to win: the Ugly Sweater Contest.
For the third year during the annual Keshmish Festival at the Navajo Nation Museum an Ugly Sweater Contest was held. Campbell's mom Eirena Begay-Deschinny said a week up until the contest her daughter was excited and adamant that she would win.
"This was her whole highlight of the week," said Begay-Deschinny about her daughter. "It was all her own creation. I thought she would maybe place, but not win, because last year there was other sweaters with intricate details.
But, Campbell had some stiff competition with four other participants showing off their own ugly sweater creations. The ugly sweaters weren't the only important aspect to winning the contest; contestants had to show off their moves to the crowd as they modeled off their sweaters in hopes to get the loudest applause, which determined the winner.
Navajo Nation Museum Curator Clarenda Begay said that she, along with her colleagues, came up with the idea of the Ugly Sweater to try to get everyone in the Christmas spirit. She even gave the contest a Navajo name and said this year would be the first year the winner would receive a plaque.
"I call it T'oo baa'ih deiji'éé'naatsoodii," said Begay. "I wanted to give it a Navajo name and get people in the Navajo Keshmish spirit. This year we have a plaque and a $25 gift certificate."
Campbell's winning sweater was a white one she found at JCPenney, but she added her own decorations such a stuffed reindeer and a wreath in the middle. She also made sure to represent her school by wearing her princess crown.
---