Drone used to detect uranium sites, first step in cleanup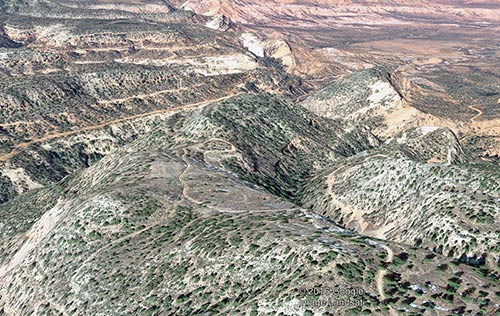 WINDOW ROCK
Carl Smyth of Seattle uses his drone and camera to map out uranium spots in hard-to-find places. Most recently the area two miles south of Cove Day School in Red Valley, Arizona underwent careful examination.
According to the Environmental Protection Agency, in 2014 the U.S. entered a legal settlement which provided $1 billion to investigate and clean up uranium mines left over from the Kerr-McGee Corporation and its successor, Tronox.
With around 50 mines located on the Navajo Nation, about 32 are located in the Cove and Lukachukai area, according to Smyth, whose goal is to map uranium contamination spots to help advance the study of uranium contamination and cleanup around the Navajo Nation.
Using a drone, a camera and a ventilator counter, Smyth flies his drone to capture a 3-D image of the landscape of the Lukachukai Mountains and pinpoints readings of uranium deposits.
The drone flew over an old abandoned uranium camp two miles south of Cove Day School that was very active in the 1950s. Accumulations of mine waste, rock, and abandoned uranium ore spread throughout the area, leaving potentially dangerous residue.
The Cove Mesa 1 Abandoned Uranium Ore (Cove) project is one of five prototypes to develop better solutions for 3-D mapping and modeling for useful and helpful practices, built by CityGML.
Smyth works for CityGML, which creates "Venue Modeling Experiments" to map out and build models for assisting and helping in data collection for different fields. OGC is a non-profit organization with 450 members from the United Nations and many U.S. and foreign organizations. They are experts in global imaging-related fields who create mapping techniques and products.
The Cove project will map out a 3-D model of the camp as it was in the 1950s when mining activities were in their prime. At the base of the Lukachukai Mountains, Smyth will map out geologic units that include roads, tunnels, buildings, and accumulations of mine waste rock and old uranium ore.
---