Code talkers added to Albuquerque's Wall of Fame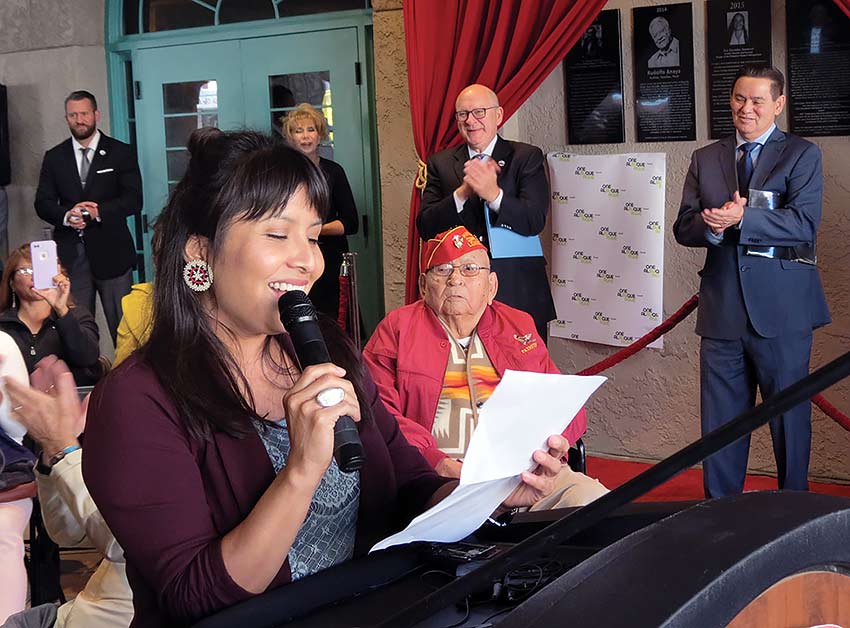 By Colleen Keane
Special to the Times
ALBUQUERQUE
"Five, four, three, two, one!" shouted Mayor Tim Keller. On Keller's cue, mid-school student Lian Brown, Diné, unveiled a commemorative plaque inducting the Navajo Code Talkers into the city's Wall of Fame.
It was a special moment for Lian because the ceremony honored his great grandfather, Joseph Vandever Sr., 95, from Haystack, New Mexico. Vandever was one of the 400 Navajo Code Talkers who served in the U.S. Marines from 1942 to 1945 during World War II. "This is really exciting," exclaimed Lian, as his grandfather looked on. "I am proud to be the great grandson of a code talker!" The event took place on the morning of Oct. 26.
The Wall of Fame, located downtown in the rotunda of the bus and train station at 1st and Central, was created in 2013 by the city's transportation department to pay tribute to citizens who have positively impacted the city and the world. "As one of our Southwest's and nation's greatest treasures, they more than deserve a place here for helping to preserve our country's freedom so many years ago," director Bernie Toon told the dozens of family members, city officials and community members gathered for the unveiling.
During WWII, the original group of 29 code talkers created an unbreakable code using Navajo words for military terms that the Japanese never figured out.
---