First annual Easter egg hunt focuses on family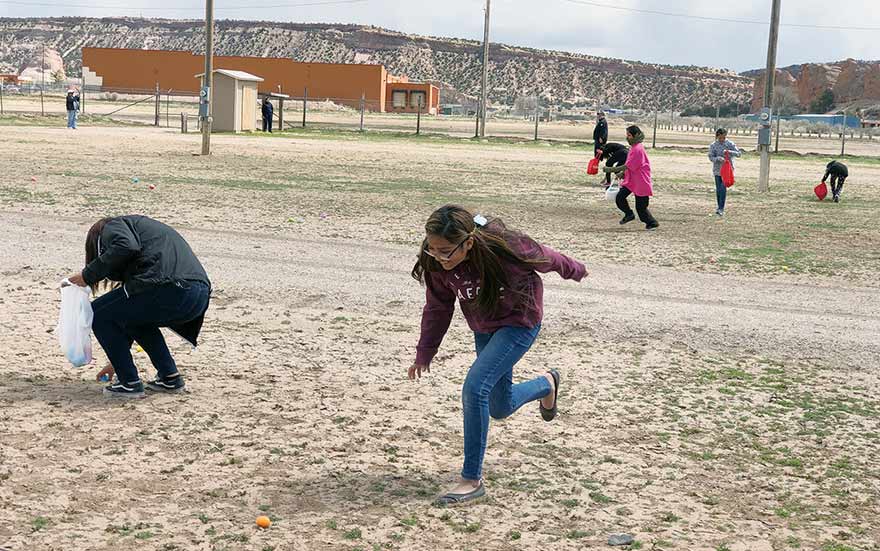 WINDOW ROCK
Sisters Shandace, 14, and Christina Tsosie, 16, were racing around near the Window Rock powwow grounds trying to bag as many Easter eggs as they could.
They, along with dozens other teenagers, took part in the first annual Easter Egg Hunt and Kids Fair hosted by the Department of Emergency Medical Services, and coordinated by Navajo Division of Transportation. "I'm getting too old for this," said Shandace, laughing as she ran and bent down to scoop up a plastic egg.
Her sister was right next to her laughing at the comment as she scurried about, trying to nab another plastic egg to put in her plastic bag. The Tsosie sisters said their parents brought them to Window Rock from Chinle, where they're from, to participate in the hunt and afterwards they were headed to the Navajo Nation Zoological and Botanical Park.
Wanting the kids to enjoy a good old-fashioned Easter egg hunt, Harrietta Begay, an instructor coordinator for Fort Defiance EMS, worked with NDOT to put on the first annual Easter egg hunt in Window Rock. "
This is something for the kids," said Begay, as to why she came up with the idea. She said she had started a hunt in To'Hajiilee, which no longer takes place, as well as Tohatchi, where the event continues. "This is going to be their (Fort Defiance EMS) first annual," said Begay. "This is something for the kids to enjoy and, as we go along, this is something we build up for the elderly."
---