Growing into their rank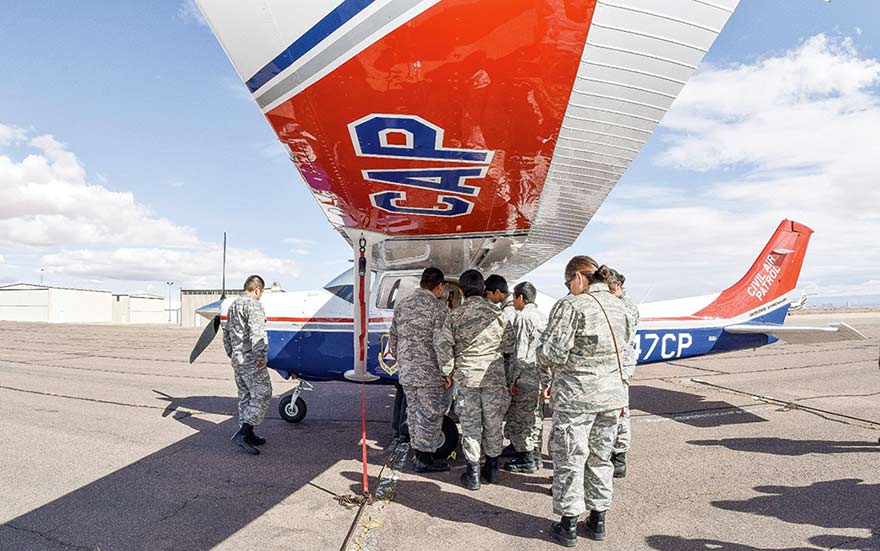 Parents praise Civil Air Patrol program
By Krista Allen
Special to the Times
PAGE, Ariz.
Ruby Fuller has noticed her son is more respectful, responsible, and even more patriotic.
Before he joined the Navajo Code Talker Bahe Ketchum Composite Squadron, the only Civil Air Patrol program in the Navajo Nation, her 13-year-old son, Davison Fuller, was "just a boy." Now, he's a well-mannered, polite young man, said Ruby.
"He was just a kid, but he's not like that anymore," Ruby said as she sat inside the Page Municipal Airport on Saturday morning in support of the squadron's third flight training. "Especially with his (maternal) grandmother," she said. "He pushes the cart for her (in stores) and opens doors for her. He does these things not only for my mother, but also for anybody.
"If we're at a store and sees an elder walking up, he'll hurry to make his way up to the doors just so he could hold them open for them and greet them," she said. Davison chatted with other cadets as they waited to be assigned to an aircraft and a pilot for flight training. He is the highest-ranking cadet in the program, which is based at Shonto Preparatory in Shonto, Arizona.
---