St. Michael sixth-grader raising money to volunteer in Canada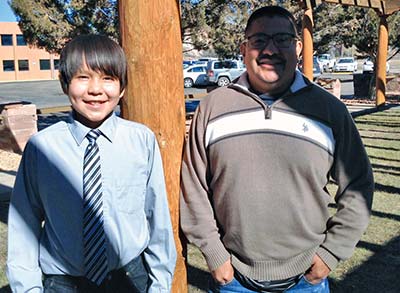 By Jan-Mikael Patterson
Special to the Times
WINDOW ROCK
Brayden Watchman has his heart set on going to Canada and he is asking for your help.
Watchman is selected to be a part of the People to People Ambassador program set for June. A 12-day trip to learn and experience cultures, do volunteer work and learn from his experiences as a leader. Participants in the ambassador program have traveled to different parts of the world.
Brayden, 11, is a sixth grader at St. Michael Indian School. His clans are Todikoozhi (Bitter Water Clan) born for Kinlicheenii (Red House Clan) His Chei is Tachiinii (Red Running Into Water) and his Nali is Nas'teezhi (Zuni Clan) His father is Harrison Watchman and they both reside in St. Michaels, Ariz.
The program is designed for students to learn about cultures throughout the world. It teaches awareness and students to become effective leaders within their own communities. The program began in 1956 with President Eisenhower citing the first delegation's mission.
---