Teddy bears reach stubby paws out to community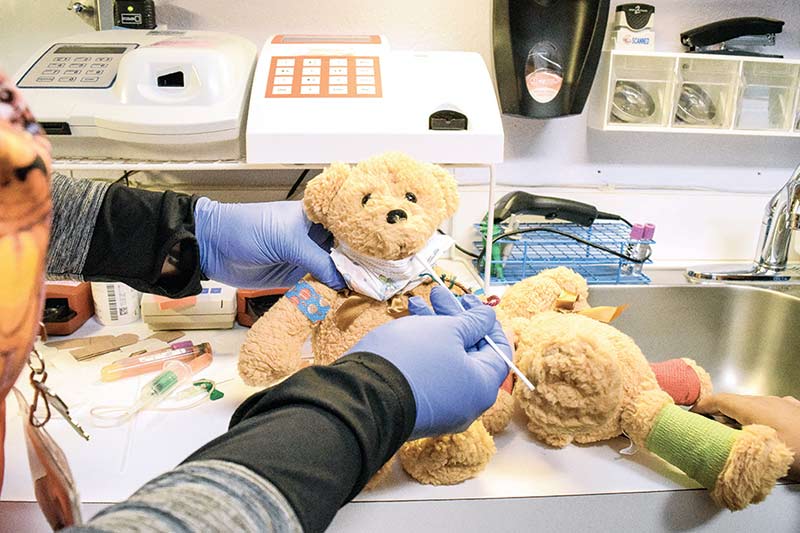 NAATSIS'AAN-RAINBOW CITY, Utah
First grader Terrell Wells explained what happened to his teddy bear's paw while nurse practitioner Jason Duterte wrapped casting tape around it.
"He cut his paw with a knife while he was washing dishes," Wells said, as he waited for Duterte to finish dressing the pretend wound.
Duterte smiled and continued to bandage the pretend wound inside the "Teddy Bear Clinic" last Thursday at Navajo Mountain Community Health Center.
Wells' classmate, Martin Neztsosie, took his bear through a number of clinics designated for treating outpatient teddy bears. His bear received stitches, a cast, and shots with pretend vaccines.
Neztsosie said he brought his bear to the clinic because it was sick.
Utah Navajo Health System Inc. every year tailors a Teddy Bear Clinic to children in southeastern Utah, and hosts the event at each of its four clinics – Blanding Family Practice Community Health Center, Montezuma Creek Community Health Center, Monument Valley Community Health Center, and Navajo Mountain.
Because a visit to the hospital or the clinic can be a little terrifying for children, the Teddy Bear Clinic aims at helping them feel less afraid of a doctor's visit, explained Yikanee Sampson, event coordinator.
"And they're more likely to come to the clinic" with their own needs, Sampson said, adding that the event started a number of years ago to highlight the importance of vaccination and to increase awareness of treatment services at the four clinics.
---