'This is a big deal'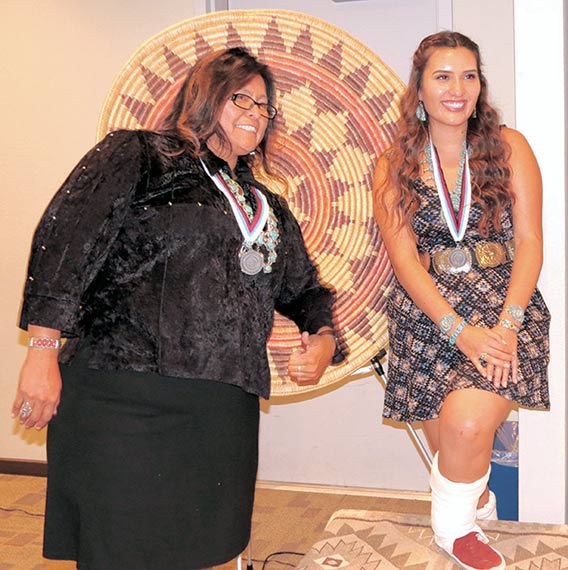 Women's group rolls out first hall of fame
WINDOW ROCK
Several outstanding tribal members and organizations were admitted into the Nation's inaugural hall of fame, featuring youth and elders, last week. Inductees exemplify moral character while inspiring commitment, dedication and compassion to improve lives in local communities, according to nomination material prepared by the Navajo Nation Women's Commission.
The medal of honor recipients are: Emmett Bia Sr., Nancy Evans, Katherine Mitchell Hardy, Healing Circle Drop In Center, the Shiprock Lady Chieftains, David "Bronco" Martinez, Tyra Nicolay, Navajo Nurses United for Research, Services and Education (N-Nurse), New Mexico State Sen. John Pinto, Restoring and Celebrating Family Wellness, Telletha Valenski, Bobby White and Louise Yellowman.
The commission, which created the event, is chaired by Vivian Arviso, who represents the Fort Defiance Agency. Commissioners include: Lolita Paddock, Western Agency; Ramona Begay, Eastern Agency, Charlotte Begaye, Chinle Agency; and Rev. Shirley Montoya, Northern Agency. Each of the inductees was nominated by community members and/or professional associates familiar with their contributions.
Around 120 guests and family attended the ceremony including Navajo Nation President Russell Begaye, former Navajo Nation President Ben Shelly and former first lady Martha Shelly and American Indian Graduate Center Director Sam Deloria.
Royalty included Gallup Inter-tribal Indian Ceremonial Queen Zunneh-bah Martin and Miss Navajo Technical University Brandy Joey. During the ceremony, held at the Department of Transportation on Aug. 30, Begaye ceremoniously presented each of the inductees with a handcrafted medal of honor and certificate, while members of the commission graciously thanked them.
---