Native Art Market provides cultural space for artists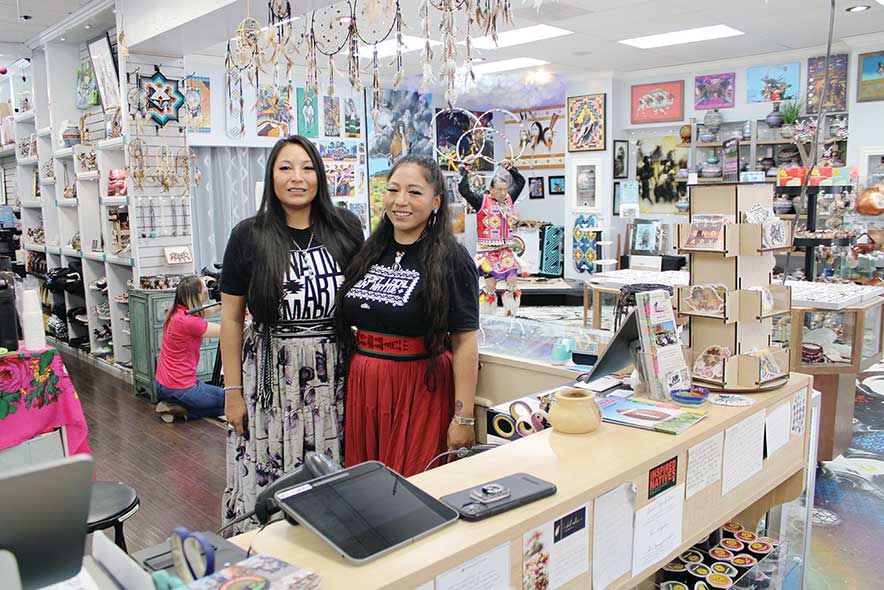 By Geri Hongeva
Special to the Times
KINŁÁNÍ
The first Native-owned store in Old Town Scottsdale on Main Street is owned and operated by Navajo women from Cameron, Arizona. This store features over 300 artists and more than 28 Native American tribes, including the First Nations of Canada.
In December 2022, the Phoenix Indian Center awarded Native Art Market a Business of the Year, recognizing its efforts in creating a cultural space for many Native artists to sell their art and organizing cultural performances.
The Navajo women who own Native Art Market are Denise Rosales and her daughters, Heather Tracy and Devin Shea Tunney. Together they have approximately eight employees and 10 cultural dancers. The trio maintains two locations: an indoor market at 7215 E. Main St. and an outdoor market, the Pavilions at Talking Stick (9151 E. Indian Bend Rd.). Both locations are in Scottsdale.
Space for cultural performances
The outdoor market began in October 2018. It is open on Saturdays from 10 a.m. to 5 p.m. from November to March. Artists can set up a booth to sell their art by contacting NAM directly. The outdoor space allows an ideal space for cultural performances.
The indoor market opened Nov. 21, 2020. At first, its inventory was very sparse, but word spread throughout the artists' community, and it began collecting art pieces to showcase in the store. NAM has a great relationship with the artists, and each artist determines the price of their product themselves.
Unlike most of the galleries one sees in Old Town Scottsdale, the sale goes directly back to the artist, and each artist pays for their space within the store. After being open for two years, Native Art Market has generated over $2 million in sales and is still growing in popularity.
Rosales and her daughters are very knowledgeable in the Native arts and craft business. She shared the story about her maternal grandmother, who is Tsi'naajinii, Grace Tsinnie Yellowmexican, who refused to sell the jewelry she made to a trading post for pennies on the dollar. Tsinnie was one of the first to sell her jewelry by the roadside in the Cameron area and the Little Colorado Gorge, which is now a tribal park.
"We used to dress up in our traditional outfits and have people take pictures of us, and that's how we got the tourists to stop," Rosales explained. "We are five generations. My kids grew up being a part of the outdoor market. It has been a family business."
The trio, Tsi'naajinii women, is skilled in making jewelry from dream catchers to silversmithing, but today, they are busy with the daily operations of their store. They say they don't have time to make jewelry anymore. Rosales remembers her másáni being so talented and very business minded.
The girls remember sitting under the table when her másáni was selling jewelry. Rosales and her daughters express the importance of sharing their culture and educating visitors.
Paving way for artists
Like Tsinnie, they are setting new goals, paving the way for their fellow artisans to help them sell their art. NAM is a place for all to enjoy, and many artists stop by and hang out. The indoor market also offers cultural workshops, such as learning more about herbs from a Navajo medicine man and how to make fry bread – just to name a few.
Artists featured include Amos Hasken, Dan Akee, Donald Howard, Dwayne Turpen, Eric Louis, Frank Fowler Jr., Gilbert Begay, Gordell Wright, Jeremy Arviso, JStan, Kyle Nash, Kynard Begay, Melvin Shorty, Selena Shorty, Piersten Doctor, Rachelle Lane, Travis Tubinaghtewa, Duane Koyawena, Enoch Endwarrior, and Kamia Begay.
Arizona is one of the top destinations for the travel and tourism industry. It offers the majestic landscape of the desert, the high altitude living in the mountains, river rafting, hiking, mountain biking, skiing, and hunting. Arizona is the ancestral land to 22 Native American tribes, and many of them have an emergence story associated with the Grand Canyon.
Native emergence
For hundreds of years, before settlers arrived, before the military built their forts, the Native people of the Colorado Plateau were stewards of the land. They grew their crops, made pottery for food storage, made baskets to carry food, wove rugs for clothing and bedding, made turquoise jewelry to wear for protection, and given as gifts to loved ones. They also traded items with neighboring tribes.
Today, many of these crafts are being sold by non-Natives throughout the state, and usually, the price is marked up. Native Art Market works directly with each artist, so it can help promote them by providing their social media pages and contact information. Many times, consumers become collectors, and they begin to buy frequently from their favorite artists.
---